EASTER CELEBRATION!
SHOP TILL YOU DROP–FOOD FACTS – RECIPES – FIT AND FABULOUS
 POLITICS  – FASHION – HEALTH AND WELLNESS –FITNESS – SPORTS–
 MENS FASHIONS – BEAUTY –INSPIRATION – PARENTING  –WORLD NEWS – FINANCE
INSPIRATIONAL RAYS OF SUNSHINE!
HAPPY EASTER!



FOR MANY FAITHS
THIS TIME OF YEAR REPRESENTS
A  SPIRITUAL TIME OF RENEWAL…
MAKING PEACE WITH OTHERS…OR MAKING PEACE WITH YOURSELF…
LETTING GO OF THE NEGATIVE WAYS OF THE PAST…
AND ALLOWING YOURSELF TO START OVER WITH A  FRESH NEW OUTLOOK,…
AND DON'T FORGET TO BEGIN THAT BRIGHT NEW DAY
WITH A CONVERSATION WITH YOUR BEST FRIEND…
SOMEONE YOU CAN TRUST, WHO'S ALWAYS THEIR WHEN NEEDED,…
BUT FORGOTTEN ABOUT FAR TO OFTEN…
GOD!
 MAY RAYS OF INSPIRATION SHINE  UPON
YOUR SOUL
AND MAY THOSE RAYS BE REFLECTED IN YOUR ACTIONS
AS YOUR ACTIONS ARE HEARD LOUDER THAN YOUR WORDS ...
LET GO…and LET GOD!
TRY TO FIND FAITH IN A HIGHER POWER…
THOUGH OUR LIVES ARE IMPORTANT…
WE ARE NOT THE CENTER OF IMPORTANCE!
TAKING OURSELVES TOO SERIOUSLY …
CAN ONLY LEAD TO SERIOUS PROBLEMS…
KEEP IS SIMPLE…
BELIEVE…
FORGIVE…
ACCEPT…
LET PEACE BEGIN WITHIN OURSELVES…
THEN SHARE IT WITH OTHERS…
HAPPY EASTER!
Easter, which celebrates Jesus Christ's resurrection from the dead, is Christianity's most important holiday. It has been called a moveable feast because it doesn't fall on a set date every year, as most holidays do. Instead, Christian churches in the West celebrate Easter on the first Sunday following the full moon after the vernal equinox on March 21. Therefore, Easter is observed anywhere between March 22 and April 25 every year. Orthodox Christians use the Julian calendar to calculate when Easter will occur and typically celebrate the holiday a week or two after the Western churches, which follow the Gregorian calendar.
The exact origins of this religious feast day's name are unknown. Some sources claim the word Easter is derived from Eostre, a Teutonic goddess of spring and fertility. Other accounts trace Easter to the Latin term hebdomada alba, or white week, an ancient reference to Easter week and the white clothing donned by people who were baptized during that time. Through a translation error, the term later appeared as esostarum in Old High German, which eventually became Easter in English. In Spanish, Easter is known as Pascua; in French, Paques. These words are derived from the Greek and Latin Pascha or Pasch, for Passover. Jesus' crucifixion and resurrection occurred after he went to Jerusalem to celebrate Passover (or Pesach in Hebrew), the Jewish festival commemorating the ancient Israelites' exodus from slavery in Egypt. Pascha eventually came to mean Easter.
Easter is really an entire season of the Christian church year, as opposed to a single-day observance. Lent, the 40-day period leading up to Easter Sunday, is a time of reflection and penance and represents the 40 days that Jesus spent alone in the wilderness before starting his ministry, a time in which Christians believe he survived various temptations by the devil. The day before Lent, known asMardi Gras or Fat Tuesday, is a last hurrah of food and fun before the fasting begins. The week preceding Easter is called Holy Week and includes Maundy Thursday, which commemorates Jesus' last supper with his disciples; Good Friday, which honors the day of his crucifixion; and Holy Saturday, which focuses on the transition between the crucifixion and resurrection. The 50-day period following Easter Sunday is called Eastertide and includes a celebration of Jesus' ascension into heaven.
In addition to Easter's religious significance, it also has a commercial side, as evidenced by the mounds of jelly beans and marshmallow chicks that appear in stores each spring. As with Christmas, over the centuries various folk customs and pagan traditions, including Easter eggs, bunnies, baskets and candy, have become a standard part of this holy holiday.

THE HISTORY OF EASTER…
= 

Must-See Easter Movies
Turn off the sitcoms
and get into the Easter spirit with these hand-picked selections.
By Nancy Mattia and our COFFEEBREAKWITHFRIENDS team!
www.facebook.com/pages/Joshua-the-Movie…/188803067811892Joshua the Movie Starring Tony Goldwyn and F.Murray Abraham – "Remind them that I love them. That I died for them. Tell them that my love is real. That if they …
www.imdb.com/title/tt0046247/
 Rating: 6.7/10 – 3,493 votes
Marcellus is a tribune in the time of Christ. He is in charge of the group that is assigned to crucify Jesus… See full summary »
Directed by Henry Koster. Starring Richard Burton, Jean Simmons.
www.thepassionofchrist.com/The Passion Of The Christ –
A Mel Gibson Film – Official Movie Website – Icon Productions.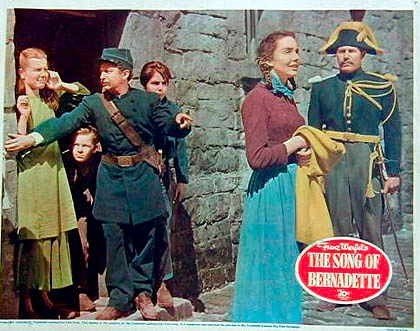 A powerful movie about the innocent, quiet strength of faith when confronted by doubt and opposition, focusing on the girl who saw a vision of the Virgin Mary at Lourdes, with an exceptional, angelic performance by Jennifer Jones.
 THE CHRONICLES OF NARNIA: THE LION, THE WITCH AND THE WARDROBE
2005: THE LION, THE WITCH AND THE WARDROBE, based on C. S. Lewis's popular Christian fable, tells the story of four English children, who enter the land of Narnia, where they meet Aslan, the son of the Emperor-Beyond-the-Sea, who rescues the land from the evil White Witch. Despite some minor changes from the book, THE LION, THE WITCH AND THE WARDROBE retains most of its Christian focus and is tremendously exciting, thrilling and redemptive.
What it's about: A heartbroken Fred Astaire needs a new dance partner when fellow toe-tapper and love interest Ann Miller quits their duo to go solo. (Where's Ginger when you need her?) Fred teams up with a plucky chorus girl, Judy Garland, and they attempt to step their way to stardom in time for the next Easter Parade.
Watch it with: Any youngster who's hooked on High School Musical and can appreciate the dance numbers and the "we're gonna make it big" mentality.
The Greatest Story Ever Told
 (1965)
What it's about: This blockbuster depicting the life of Jesus Christ is full of drama, spectacular scenery, and A-list Hollywood stars in noteworthy cameos, including John Wayne, who witnesses the crucifixion and exclaims with a drawl — yes, a drawl — "Truly this man was the son of God."
Watch it with: Older kids who can sit still for a serious movie. It's more than three hours long but well worth it.
Ben-Hur
 (1959)
What it's about: Ben-Hur, played by Charlton Heston, is a Roman prince whose powerful friend-turned-foe banishes him to a slave ship. Revenge awaits. Ben-Hur's tribulations are interspersed with scenes of Jesus Christ's life and death.
Watch it with: Teenagers who thrill to speedy car chases; here, of course, the cars are chariots.
Jesus Christ Superstar
 (1973)
What it's about: Who knew Jesus could sing? Apparently Andrew Lloyd Webber did, in this rock musical adaptation of the life of Christ. Hit songs include "I Don't Know How to Love Him," sung by a remorseful Mary Magdalene.
Watch it with: Grade schoolers and older kids who think a nontraditional take on religion is groovy, man.
King of Kings
 (1961)
What it's about: If you like your biblical epics on a human, less-grandiose scale, this is the one for you. Narrated by Orson Welles, this film tells the story of the life of Jesus Christ, including a moving scene of the Sermon on the Mount.
Watch it with: Grade schoolers and older kids. Salome's dance is sure to entertain any youngster who likes music videos.
It's the Easter Beagle, Charlie Brown
 (1974)
What it's about: Charlie Brown and company get ready for Easter. Peppermint Patty attempts to get crafty with colored eggs, Sally goes to the mall for new shoes (platforms, of course, since this is a '70s-era production), and the whole gang goes on an egg hunt while looking for the Easter Bunny.
Watch it with: Toddlers and preschoolers. But then again, who doesn't love Charlie Brown?
Yogi the Easter Bear
 (1993)
What it's about: In this cartoon, Yogi is doing his usual thing, stealing picnic ("pic-a-nic") baskets as his best bud, Boo Boo, tries to reform him. But then the Easter Bunny is kidnapped, and it's Yogi to the rescue.
Watch it with: Toddlers and preschoolers. Yogi may be goofy, but he's gentle too.
Winnie the Pooh — Springtime With Roo
 (2004)
What it's about: This cheery musical finds Rabbit more interested in spring cleaning than Easter, much to the disappointment of his pals Winnie the Poo, Piglet, Tigger, and Roo.
Watch it with: Toddlers and preschoolers. These characters put the "L" in lovable as they all learn the importance of friendship.
Peter Cottontail — The Movie
 (2006)
What it's about: In this animated film, Peter, Chief Easter Bunny, tries to teach his son about responsibility by assigning him to clean the Clock of Spring. But Peter's nemesis, Irontail, decides to steal it. Oh, no!
Watch it with: Toddlers and preschoolers. This is true family fare.
"In every generation each individual is bound to regard himself as if he had gone personally forth from Egypt." – the Passover Haggadah
At Passover Seders each year, we recite the Haggadah's timeless instructions to regard ourselves as having personally lived through the events of the Exodus. The Seder itself is designed to help us envision our participation in the story. We dip parsley into saltwater to remember the tears we shed in Egypt, and we munch on spicy, bitter horseradish in an attempt to replicate a little of the misery we experienced as slaves.
But how far can saltwater and horseradish really take us? For most of my life, when I pictured ancient Egypt, I thought of the 1956 epic film, The Ten Commandments. The sets were opulent, and I loved Anne Baxter's gorgeous robes and headdresses as she played Nefertiti, queen of Egypt. READ MORE?>>
Visit: http://www.OurDailyJourney.com
My Own Little World
(A Christ Church of the Heartland Production with a song by Matthew West) –
Inspirational Videos