ARCHIVE: MINUTES TO POST BREEDER'S CUP 2013
GREAT DEALS ON GOLF BALLS AT PARAGON SPORTS…
CLICK  the ads ABOVE!^^
MINUTES TO POST
THE BREEDER'S CUP 2013
coffeebreakwithfriendswebsite@gmail.com
SHOP TILL YOU DROP –FOOD FACTS – RECIPES – FIT AND FABULOUS
  FASHION – HEALTH AND WELLNESS –FITNESS – SPORTS– ARE YOU MAD AS #@%#
 MENS FASHIONS – BEAUTY –INSPIRATION – PARENTING  –WORLD NEWS – FINANCE
MINUTES TO POST…
BREEDER'S CUP 2013
THOROUGHBRED HORSE RACING NEWS   
from Jerry and Suzee Bailey
COFFEEBREAKWITHFRIENDS' MINUTES TO POST would like to
Congratulate all of the Winning Teams
that helped to make BREEDER'S CUP 2013 a Spectacular Weekend in Sports!  
See ya in 2014 as we bring you up to date coverage on the Road to the Kentucky Derby.  
BRAVO!
Send us your comments or questions at:
coffeebreakwithfriendswebsite@gmail.com
2013 BREEDER'S CUP CLASSIC –
MUCHO MOCHO MAN
Barbara D. Livingston
Mucho Macho Man (right) holds off Will Take Charge (left) and Declaration of War to win the Classic.
ARCADIA, Calif. – A year ago, Gary Stevens was working in broadcasting for NBC. Six years ago, Kathy Ritvo was nearly dead, the victim of a failing heart.  On Saturday, in tandem, Stevens and Ritvo completed the comeback story of the year. Stevens, a Hall of Fame jockey who returned to riding early in the year, and Ritvo, able to follow her passion of training with a transplanted heart in her chest, won the $5 million Breeders' Cup Classic with Mucho Macho Man, who survived a thrilling three-horse duel to the wire that captivated the crowd of 58,795 at Santa Anita.
Mucho Macho Man just did hold off the 3-year-old Will Take Charge to win by a nose, with the European invader Declaration of War, making his first start on dirt, right between them, only a head farther back in third.
Mucho Macho Man ($10), the second choice in the field of 11, completed 1 1/4 miles on the fast main track in 2:00.72
Fort Larned was fourth and was followed, in order, by Last Gunfighter, Palace Malice, Paynter, Flat Out, Game On Dude, Moreno, and Planteur. Ron the Greek was scratched on Thursday.
Game On Dude, the 8-5 favorite, failed in the Classic for the third straight year, finishing ninth, beaten 11 1/2 lengths, after attending the early pace while wide. He came up empty in the stretch with seemingly no excuse.
[BREEDERS' CUP SATURDAY: Video replays and race results]
Game On Dude had not lost since finishing seventh in last year's Classic and came into this year's race having won six straight races, five this year, and as the front-runner for Horse of the Year. But his loss against the best field he faced this year throws Horse of the Year into debate. Wise Dan, the 2012 Horse of the Year, certainly enhanced his chances by winning the Mile on turf for the second straight year.
And now the older horse title is up for debate, with Game On Dude having dominated much of the year, but Mucho Macho Man having made a late-season bid and being far better in the only head-to-head match.
The Classic was the last of 14 Breeders' Cup races run on Friday and Saturday. Unlike the Friday card, when the main track seemed to favor speed, the track on Saturday, though fast, seemed fair to all running styles.
Moreno, Fort Larned, and Game On Dude set off for the early lead and set fractions of 23.39 seconds for the opening quarter-mile and 46.36 for a half-mile. Moreno was the first to yield, with Fort Larned surging to the lead through six furlongs in 1:10.23.
Stevens was able to get Mucho Macho Man – a big, long-striding horse – out into the middle of the track down the backstretch, and he set after the leaders with three furlongs to run, ranging up outside Fort Larned and Game On Dude.
Mucho Macho Man did not corner well into the home stretch. Fort Larned re-rallied to briefly take a narrow lead in upper stretch as Game On Dude faded, but Mucho Macho Man surged anew and took the lead for good.
Declaration of War, who settled smartly inside and behind the leaders, was tipped out for the stretch run and took aim at Mucho Macho Man, and then Will Take Charge came storming down the center of the track after getting fanned about six paths wide into the lane.
They came to the wire three abreast, and, though it was desperately close, Stevens rose in the saddle and thrust his whip in the air.
It was the most he used the whip. Stevens said he learned in a victory Sept. 28 in the Awesome Again – the first time he rode Mucho Macho Man – that the horse did not respond to being whipped.
"He's a very intelligent horse," Stevens said.
Mucho Macho Man finished second in last year's Classic to Fort Larned. He came to Santa Anita in September to prepare for the Classic by prepping in the Awesome Again, which he won, and he remained here, turning in a strong, steady series of works for Ritvo.
Mucho Macho Man, owned by Reeves Thoroughbreds, has now won eight times in 23 starts. The $2,750,000 first prize money from the Classic was more than the $2,590,410 he had earned in his previous 22 starts combined.
Stevens, who also won the Distaff on Friday with Beholder, called the Classic win, his first in the race, "Sweet."
"Maybe this all was meant to be," Stevens said. "I mean, I thought it was going to happen, but I can't believe it did happen."
"This is retirement for me," Stevens added. "Believe it or not, it's a retirement check every month. I'm having fun."
Ritvo, the first woman to train a Classic winner, said, "Like Gary said, I thought we'd be here. I don't know how to feel."
Game On Dude broke sharply, was in a good position into the far turn, but retreated.
"When the running started, he just didn't have it," said his trainer, Bob Baffert. "It's been a great year, but I really expected him to win the race."
It was a day of emotional highs and lows for Baffert. He won the Juvenile with New Year's Day and the Sprint with Secret Circle, after having his filly Secret Compass suffer fatal injuries in the Juvenile Fillies.
John Velazquez was injured in the day's first Breeders' Cup race when Secret Compass went down. He needed surgery to remove his spleen. Just one of his subsequent mounts, Wise Dan, was a winner, with Jose Lezcano picking up the mount. Rafael Bejarano subbed for him on Palace Malice in the Classic.
Groupie Doll won the Filly and Mare Sprint for the second straight year, and Mizdirection repeated in the Turf Sprint, joining Wise Dan. Secret Circle, who won the now-discontinued Juvenile Sprint in 2011, captured the Sprint, becoming the third horse to win two different Breeders' Cup races.
The Europeans, who won two races Friday, came back with two more Saturday, with Dank in the Filly and Mare Turf and Magician in the Turf, both ridden by Ryan Moore. And they nearly won a third in the Classic with Declaration of War.
Martin Garcia also rode two winners, New Year's Day and Secret Circle. Stevens was denied a second winner on the day when She's a Tiger was disqualified from victory in the Juvenile Fillies after bumping Ria Antonia in deep stretch.
"I tried not to let that get in my head the rest of the day," Stevens said.
– additional reporting by David Grening
Payoffs
$2 exacta (6-10), $73
$1 trifecta (6-10-5), $304.40
$.10 super (6-10-5-7), $191.62
$.50 super high-5 (6-10-5-7-1), $8,813.50
$2 double (8-6), $19.20
$1 pick-3 (9-8-6), $37.80
$.50 pick-4 (11-9-8-6), $381.45
$2 pick-6 (6 of 6) (12-4-11-9-8-6), $47,156.20
$2 pick-6 (5 of 6) (12-4-11-9-8-6), $406.40
Barbara D. Livingston
John Velazquez, here aboard Palace Malice, is recovering from emergency surgery to remove his spleen.
John Velazquez was feeling almost human again.
"I finally got to take a shower," he said, as he walked across the room and settled gingerly into his hospital bed with the help of his wife, Leona. Mike Smith, John's pal, was of no help at all.
"The nurses were beginning to talk about how bad you smelled," Smith said.
Velazquez winced. Usually he'd have a snappy comeback. Right now he was ready for a Tylenol.
"That's all I want, just to take the edge off," Velazquez said. "The stronger stuff just makes me feel worse."
Velazquez had a right to feel as bad as he pleased. The nasty surgical wound beneath his left rib cage was the outward evidence of the primary damage caused last Saturday when his mount, Secret Compass, suffered a fatal fracture and sent Velazquez hard to the ground around the final turn of the Breeders' Cup Juvenile Fillies, whereupon he was kicked by a trailing horse.
It was the first Breeders' Cup race of the day, and it happened just before Leona and their two children, 15-year-old Lerina and 10-year-old Michael, had arrived at Santa Anita from their hotel. Velazquez, bleeding internally, was taken by paramedics to the trauma center at Huntington Memorial Hospital in nearby Pasadena, where he underwent emergency surgery to remove his damaged spleen. Now, four days after his surgery, the lesser bruises and abrasions sustained in the fall were coming out from hiding, revealing themselves in all their glory.
"That's how it works," Smith said. "When you go down like that sometimes you'll discover a new one every day for awhile. At least your X-rays are all good."
"The worst is my arm," Velazquez said with a careful flex of his left arm. "You can see it's still swollen."  READ MORE>>
2013 Breeders' Cup Distaff –
Beholder
v=
2013 Breeders' Cup Mile –
Wise Dan
v=
2013 Breeders' Cup Turf –
Magician (IRE)
=]
2013 Breeders' Cup Dirt Mile –
Goldencents
lv=
Could this be next year's Kentucky Derby Winner?
2013 Breeders' Cup Juvenile –
New Year's Day
lv=
2013 Breeders' Cup Turf Sprint –
Mizdirection
=
2013 Breeders' Cup Juvenile Fillies Turf –
Chriselliam (IRE)
flv=
2013 Breeders' Cup Xpressbet Sprint –
Secret Circle
lv=
2013 Breeders' Cup Filly and Mare Turf –
Dank (GB)
=
2013 Breeders' Cup Filly and Mare Sprint –
Groupie Doll
lv=
FOR MORE RESULTS AND VIDEO CLICK HERE
************
FOR JOCKEY, OWNERS, AND TRAINERS SCROLL DOWN THE PAGE…
SATURDAY'S QUICK PICKS…
JERRY'S
RACE 4
Juvenile Fillies:
1.  ARTEMIS AGROTERA
2.  SWEET REASON
3.  UNTAPABLE
RACE 5
Filly & Mare Turf:
   1.Dank
   4. Alterite
   6. Marketing Mix
RACE 6
Filly& Mare Sprint
   11.Groupie Doll
    5. Teddy's Promise
   8. Dance to Bristol
RACE 7
Turf Sprint:
12. Mizdirection
5. Coracortado
14. Unbridled's Note
RACE 8
Juvenile:
13 Havana
4. New Year's Day
3. Mexikoma
RACE 9
Turf:
7. The Fugue
4. Little Mike
8. Indy Point
RACE 10
Sprint:
1.  Justin Phillip
7. Private Zone
3.Gentleman's Bet
RACE 11
Mile:
8. Wise Dan
1. No Jet Lag
5.Olympic Glory
RACE 12
Classic:
8. Palace Malice
6. Mucho Macho Man
5. Fort Larned
******** 
GARY'S…
Nov 2
  Race 4
  1.) Artemis Agrotera- galloped smoothly since her arrival, draws a great post and should sit right behind a fast pace.
  2.) Secret Compass– won the local prep for this and seems to have forward since the race.
  3.) Untappable– trained in typical Asmussan style for this race. Needs to relax early on but watching her Churchill races impressed me.
  Race 5
  1.) Dank– has looked awesome in her local turf gallops. A repeat of her Beverly D seems to be brewing and that could spell trouble for this group.
  2.) Tiz Flirtatious– I've been a fan of hers since her debut. Has a great acceleration and her record over this turf course speaks for itself.
  3.) Marketing Mix– another local runner who has won half her lifetime starts, must find a way to make up the 5 3/4 lengths Dank handled her by in August.
  Race 6
  1.) Sweet Lulu– ran great 2nd to Close Hatches (who ran huge to Beholder) in last and returns to the one turn game she's bred for. Looked great in her easy blowout and draws a great box for the Angry Troll. The Pick.
  2.) Book Review– skinny filly brings it most every time. Great record at this distance.
  3.) Dance Card– has obvious talent, must run straight.
  Race 7
  1.) Capo Bastone– broke thru with a huge win in last. Street Boss has been unreal turf sire thus far. Should be flying late.
  2.) Chips All In– seems to never run a bad race and has trained well for this with Leparoux up.
  3.) Unbridled's Note– hasn't missed a beat since he made town and is a true pro.
  Race 8
  1.) Havana– must overcome bad post but has serious talent.
  2.) Dances With Fate– has a great action and worked well for this. The 2 turns is the question.
  3.) Tap It Rich– immensely talented colt has been a headstrong handful since his debut. Question mark.
  Race 9
  1.) Indy Point– very good mile work for this and has pace edge over his 2 rivals below.
  2.) The Fugue– had a nightmare trip last year and gets more distance to work with here.
  3.) Big Blue Kitten– brings it every time and see no reason why he won't here.
  Race 10
  1.) Private Zone– his 45:4 half was off the charts and though there's much speed in here, he seems to love a good fight.
  2.) Justin Phillip– has trained super since his arrival but must overcome the 1 hole.
  3.) Secret Circle– doesn't race that often but makes it count when he does. has had 2 terrific works since his comeback win.
  Race 11
  1.) No Jet Lag– rising local star has trained off the charts since last. It will take all he has to dethrone The Champ.
  2.) Wise Dan– 26 starts, 18 wins says it all. If he does get beat, whoever does it will have known what war is like.
  3.) He Be Fire N Ice– courageous local runner will be rolling late.
  Race 12
  1.) Palace Malice– moving great in his local gallops, chance at a price.
  2.) Game On Dude– the consummate pro has trained decent and should run his best.
  3.) Moreno– worked freaky for this as the Water Boy tries to shock the world.
****
SUZEE'S
Race 4
JUVENILE FILLIES:
1.  Secret Compass
2.  Untappable
3.  Artemis Agrotera
Race 5
FILLY MARE TURF:
1.  Romantica
2.  Dank
3.  Alterite
RACE 6
FILLY AND MARE SPRINT:
1.  Dance Card
2.  Sweet Lulu
3.  Judy the Beauty
RACE 7
GEICO TURF SPRINT:
1.  Unbridled's Note
2.  Mizdirection
3.  Caracortado
RACE 8
JUVENILE:
1.  Havana
2.  Strong Mandate
3.  Tap It Rich
RACE 9
TURF:
1.  The Fugue
2.  Point of Entry
3.  Magician
RACE 10
EXPRESS BET SPRINT:
1. Justin Phillip  (guess why?)
2. Secret Circle
3. Private Zone
RACE 11
MILE:
1.  Silver Max
2.  Cristoforo Colombo
3.  Za Approval
RACE 12
THE CLASSIC:
1.  Flat Out
2.  Will Take Charge
3.  Mucho Macho
Many people have written to us with this question:
WHAT IS THE BREEDER'S CUP?…
Well,…The Breeders' Cup is a relatively new event compared to such famous horse races as the Kentucky Derby and the Prix de l'Arc de Triomphe, but in its short history of 30 years,  it has grown to become the "World Championships" and the year-end goal of most horsemen. With 14 Graded STAKE RACES totaling 27 Million Dollars and Awards, featuring the top Jockey's, the top Trainers and the Fastest Thoroughbred Horses from around the world…it is the Grand Event that all of those involved in the world of horse racing want to desperately participate!
AND HOW DOES A HORSE GAIN ENTRY IN TO THIS PRESTIGIOUS EVENT

?
Before the best can race, we need to determine who the best are. There are a few ways for a horse to qualify for a Breeders' Cup race. The first is by winning a Breeders' Cup Challenge race, which you can learn more about here. The second is based on a points system, where horses are ranked based on their performance in major races during the year. Points are awarded based on the following scale:
The third way to gain entry is to be selected by a panel of experts. For each race, there are a maximum of 14 horses selected for each Breeders' Cup Championship race. Seven who come from the Challenge races and points system and seven who have been selected by the experts. This ensures the highest quality of competition. READ MORE>>
***For more history and information on this Prestigious Event visit the Breeder's Cup Website.
Breeders' Cup 2013  FRIDAY'S Results: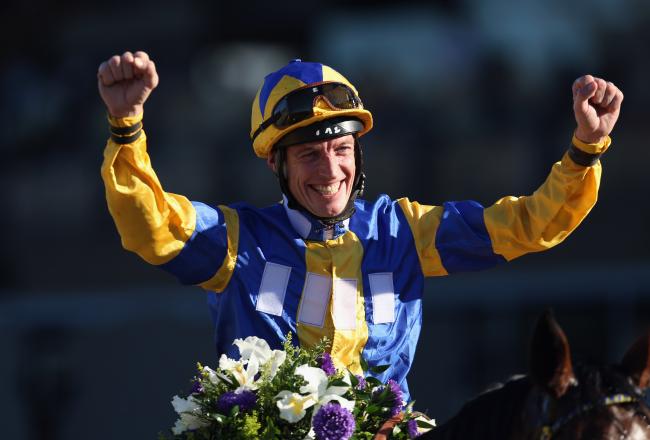 Jeff Gross/Getty Images
While a lot of people are anxiously awaiting the 2013 Breeders' Cup Classic, there were a few other races from Friday at the event that were quite exciting.
There were five races on Friday, starting with the Marathon Stakes and ending with the Distaff.  Saturday will be even busier, starting with the Juvenile Fillies and ending with the Breeders' Cup Classic, with nine total races going on throughout the day.
Let's take a look at the complete list of winners for every race on Friday, followed by a breakdown of the horses that walked away victorious.
THE MARATHON:
Winner -London Bridge
This was certainly a race that was up for grabs, with no horse coming into the race being a clear favorite.
London Bridge didn't get off to the best start, but Mike Smith kept with it and made a strong move down the middle of the track.  Blueskiesnrainbows and Wordly looked like they were going to make it just a two-horse race near the end, but London Bridge moved up and stayed on top.
This was London Bridge's first race in the United States, and it was certainly a big one.  Jo Hughes will be quite proud with the win, and it set up for an interesting rest of the day.
JUVENILE TURF:
Winner – Outstrip
Bobby's Kitten was the favorite to win this one, but it was Outstrip that was able to take home the win at the Juvenile Turf.
At first, it really looked like Bobby's Kitten was going to coast to an easy win, blowing by the rest of the group through the first half mile.  However, Outstrip was able to catch up and surprise a number of people, moving past Bobby's Kitten on the final
Mike Smith rode the winner once again, which has got to mean that he was certainly feeling it on Friday. It was the horse's third win of 2013, and he's finished in the top three in all five races.
DIRT MILE:
Winner  – Goldencents
The Dirt Mile was all about speed in this one, and Goldencents showed off plenty of it in an easy win.
Right out of the gate, Rafael Bejarano decided to go full sprint with Goldencents, taking the early lead.  Thanks to the ideal conditions on the main track, Goldencents led the whole way and came out on top over Golden Ticket and Brujo de Olleros.
This was the first win for Goldencents since April, with that last win also coming at Santa Anita.  Goldencents was also in the Kentucky Derby, but finished in 17th in that prestigious race.
JUVENILE FILLY TURF:
Winner – Chriselliam
The most dominant win of the day came from Chriselliam in the Juveniles Fillies Turf, and it wasn't very close.
The race got off to a quick start with an opening quarter mile of 22.47 seconds, and Chriselliam was sitting behind the pace.  In the final quarter mile, the horse exploded and blew past the rest of the group and finished well ahead of everyone else.
This was just the fifth race of the year for Chriselliam and her last since September, which was also a win.  Other than a ninth-place finish in August, it's been a solid year for the horse, grabbing three wins along with a second-place finish in September.
DISTAFF:  
Winner – Beholder
It seems like any horse Gary Stevens rides has a really good opportunity to win the race, and Beholder proved that once again on Friday at the Distaff.
Through the first half mile of the Distaff, Authenticity and Royal Delta set the pace and stayed ahead of the pack.  Royal Delta, the two-time defending champion, wasn't able to hold on, falling back from the lead while Beholder started to move up.
It was yet another great win for Stevens, who decided to come back from retirement this year and won the Preakness Stakes with Oxbow back in May.  He continues to grab wins, and this was yet another big one.
BREEDER'S CUP ENTRIES AND POST POSITIONS
 Led by an international cast that includes Game On Dude, defending Breeders' Cup Classic winner Fort Larned, European stars Declaration of War and The Fugue, and Horse of the Year Wise Dan, 162 horses (one also-eligible), including 16 European-trained runners, were entered Monday for the 30th Breeders' Cup World Championships at Santa Anita Park to be run Friday and Saturday

BREEDER'S CUP ENTRIES 2013
FRIDAY

JERRY'S TOP THREE…
10.  Worldly  
4.  Even Rider
 6.  Indiana Jones

JERRY'S TOP THREE
5. Bobby's Kitten
4. Outstrip
2. Giovani Boldini
2013 Pilgrim Stakes –
Bobby's Kitten
= e

JERRY'S TOP THREE
12.  Goldencents  
2.  Golden Ticket
3. Hymn Book
2013 Wood Memorial Stakes –
Verrazano
v=

JERRY'S TOP THREE…
6.Vorda
11. Ready to Act
14 My Conquestadory
2013 Connolly's Red Mill Cheveley Park Stakes –
Vorda
=

JERRY'S TOP THREE…
4. Royal Delta
2. Authenticity
6. Princess of Sylmar
2013 Delaware Handicap –
Royal Delta
=
SATURDAY

JERRY'S TOP THREE…
1.  Artemis Agrotera   
9.  Sweet Reason
7. Untapable
2013 Frizette Stakes –
Artemis Agrotera
= ]

JERRY'S TOP THREE… 
   1.Dank
   4. Alterite
   6. Marketing Mix
2013 Beverly D. Stakes –
Dank
[stream flv=

JERRY'S TOP THREE…
   11.Groupie Doll
    5. Teddy's Promise
   8. Dance to Bristol
2013 Presque Isle Masters Stakes –
Groupie Doll
= e

JERRY'S TOP THREE…
12. Mizdirection
5. Coracortado
14. Unbridled's Note
Buena Vista Stakes (Gr. II) Winner –
Mizdirection
= ]

JERRY'S TOP THREE…
4. HAVANA
6. Tap It Rich
3. Mexikoma

JERRY'S TOP THREE…
7. The Fugue
4. Little Mike
8. Indy Point
2013 Darley Yorkshire Oaks –
The Fugue

JERRY'S TOP THREE…
1. Justin Phillip
7. Private Zone
3.Gentleman's Bet
2013 Alfred G. Vanderbilt Handicap –
Justin Phillip
=
JERRY'S TOP THREE…
8. Wise Dan
1. No Jet Lag
5.Olympic Glory
2013 Woodbine Mile –
Wise Dan
JERRY'S TOP THREE…
9. PALACE MALICE
6. Mucho Macho Man
5. FORT LARNED
BREEDER'S CUP CLASSIC 2012
GAME ON DUDE
PACIFIC CLASSIC 2013
v=
Champions galore entered in 30th Breeders' Cup
Thoroughbred racing's most prestigious global event with 71 Grade or Group 1 winners among those entered, the Breeders' Cup consists of 14 races worth a total of $27 million in purses and awards, and will be run at Santa Anita for the seventh time with five races Friday and nine Saturday to be televised on NBC Sports network and NBC.
Janis Whitham's Fort Larned and Reeves Thoroughbreds' Mucho Macho Man finished one-two in the 2012 edition of the $5 million Breeders' Cup Classic at Santa Anita with Diamond Pride LLC and Lanni Family Trust's Game On Dude a disappointing seventh as the favorite. The trio leads the talented field of 12 drawn for Saturday's renewal of the 1 1/4-mile test over the same track and distance.
Hall of Fame jockey Mike Smith has ridden Game On Dude to victory in four of his five starts this year and will be back aboard Saturday as the 8-5 morning line favorite breaking from post 9. The six-year-old gelded son of 1998 Breeders' Cup Classic winner Awesome Again with earnings of $5.6 million was never more impressive than winning the Pacific Classic by 8 1/2 lengths at Del Mar last out August 25 with Martin Garcia filling in for Smith as he traveled to New York that day for the mount on champion Royal Delta at Saratoga.
Fort Larned and Mucho Macho Man also were very impressive in their final Classic tune-ups with Fort Larned capturing the Homecoming Classic at Churchill Downs for trainer Ian Wilkes and 'Macho Man' posting a 4 1/4-length score in the Awesome Again Stakes over the Santa Anita track for trainer Kathy Ritvo. Fort Larned breaks from post 7 under regular jockey Brian Hernandez Jr. and Hall of Fame veteran Gary Stevens will be aboard Mucho Macho Man for the second time leaving the gate from post 6 as the 5-1 second choice.
Other leading contenders include Dogwood Stable's three-year-old Belmont Stakes hero Palace Malice prominent among trainer Todd Pletcher's team of eight Breeders' Cup runners with jockey John Velazquez. Mrs. John Magnier's four-year-old Irish-trained challenger Declaration of War leads trainer Aidan O'Brien's Coolmore team and Hall of Fame trainer Bill Mott has the veteran duo of Preston Stable's seven-year-old Flat Out and Brous Stable and partners' six-year-old Ron the Greek, third and fourth in the Classic last year, respectively.
Mott sends out Besilu Stable's five-year-old mare Royal Delta to highlight Friday's card as she bids for a "three-peat" in the $2 million Distaff (known as Ladies' Classic in 2011-12) in a field of six. Mott also saddles Juddmonte Farm's three-year-old Close Hatches in the 1 1/8-mile test. Smith will take his regular seat on Royal Delta, the 8-5 morning line favorite, as she bids to reverse the result of a runner-up finish behind King of Prussia Stable's three-year-old filly Princess of Sylmar in the Beldame Stakes last out at Belmont Park on September 28.
Pletcher guided Princess of Sylmar to six wins from seven starts this year, including the Kentucky Oaks and Alabama Stakes prior to the Beldame. Javier Castallano rides the daughter of Majestic Warrior as the 9-5 second choice while Pletcher also will be represented by Padua Stable's six-year-old mare Authenticty in the race with strong credentials of her own.
Beholder, last year's Juvenile Fillies winner, is back to try the Distaff. The Richard Mandella filly just beat Authenticity in the September 28 Zenyatta over this track.
Priscilla Vaccarezza's six-year-old gelding Little Mike is also among the seven 2012 Breeders' Cup champions defending their titles as he breaks from post 4 with jockey Smith in the saddle in a field of 12 drawn for the $3 million Turf on Saturday run at 1 1/2 miles. Trained by Dale Romans, the son of Spanish Steps posted a 17-to-1 upset in the race last year over Phipps Stable's favored Point of Entry. Little Mike looked good winning the Turf Classic at Belmont last out for his first victory in five starts since the Breeders' Cup, including two subpar races in Dubai to begin the season.
Trainer Chad Brown has two top contenders in the Turf in Kenneth and Sarah Ramsey's pair of five-year-old Big Blue Kitten, beaten nose last out by Little Mike in the Turf Classic with a head-bob, and four-year-old Real Solution, third, beaten only a length for it all in the Turf Classic after winning the Arlington Million (on disqualification) with Little Mike sixth. Both of the Ramseys' stars are by his leading North American stallion Kitten's Joy. Jockey Joe Bravo retains the mount on Big Blue Kitten and Javier Castellano will ride Real Solution.
Hall of Fame trainer Shug McGaughey brings back five-year-old Point of Entry in the Turf in his first start since the homebred son of Dynaformer won the Manhattan Handicap on Belmont Day, June 8, emerging from the victory with a condylar fracture in his left hind cannon bone. Hall of Fame jockey John Velazquez was his regular rider before he went to the sidelines and will be back aboard Saturday. They fell a half-length short of catching Little Mike in the Turf last year.
European-trained runners have had major success in the Turf over the years, and their hopes are led by Andrew Lloyd-Webber's four-year-old English-bred filly The Fugue to be ridden by regular partner William Buick for trainer John Gosden. The daughter of Dansili finished third in the Filly & Mare Turf over the course last year and comes here this season after scores in the Yorkshire Oaks and Irish Champion Stakes, the latter against colts.
Another high point of the Saturday card will be the return of Morton Fink's six-year-old gelding Wise Dan in defense of his stunning tally in last year's $2 million Mile, a performance that sealed his Horse of the Year campaign. Velazquez has ridden the son of Wiseman's Ferry to victory in three of his last four starts this year and retains the mount Saturday as they break from post 8 as the even-money morning line favorite in the field of 10.
Trained by Charles LoPresti, Wise Dan had won nine straight races, all turf course stakes going back to summer of 2012, until being upset last out when second behind Mark Bacon and Dana Wells' four-year-old Silver Max after the Shadwell 'Turf' Mile at Keeneland was forced off grass and run on the Polytrack surface at 1 1/16 miles.
A son of Badge of Silver trained by Dale Romans, Silver Max went into the Shadwell after victories in the Oceanport Stakes at Monmouth Park and Bernard Baruch at Saratoga. Winner of the Virginia Derby among five turf stakes last year, Silver Max will have regular rider Robby Albarado in the saddle as they break from post 3.
Also back from last year's renewal of the Mile will be Anthony Fanicola and Joseph Scardino's five-year-old gelding Obviously with jockey Joe Talamo aboard for trainer Mike Mitchell. The Irish-bred son of Choisir led the field past the furlong marker last year before giving way late, beaten only two lengths for it all by Wise Dan with 2011 Kentucky Derby hero Animal Kingdom between them in second.
Sheik Joaan bin Hamad al Thani's three-year-old Irish-bred Olympic Glory and Mrs. John Magnier, Michael Tabor and Derrick Smith's Cristoforo Colombo represent Europe in the Mile. Another son of Choisir trained by Richard Hannon, Olympic Glory won the Queen Elizabeth II at Ascot last out on October 19 after solid runner-up efforts in the Prix du Moulin at Longchamp and Prix Jacques Le Marois at Deauville.
The European team also will be well represented in Saturday's $2 million Filly & Mare Turf with James Wigan's four-year-old English-bred filly Dank leading the way after already winning a major U.S. prize this year in the Beverly D. at Arlington International Racecourse last out on August 17 for trainer Sir Michael Stoute. Jockey Ryan Moore will be back aboard the daughter of Dansili in the 1 1/4-mile test breaking from post 1 in the field of 10.
The most fancied American-trained hopes include Richard Santulli's five-year-old Irish-bred mare Laughing riding a four-race win streak, including the Flower Bowl Invitational last out at Belmont for trainer Alan Goldberg; Pamela Ziebarth's Tiz Flirtatious and Glen Hill Farm's Marketing Mix, five-year-olds that finished one-two last out in the Rodeo Drive Stakes over the Santa Anita course and distance on September 28. A daughter of Medaglia d'Oro, Marketing Mix finished second in the Filly & Mare Turf last year for trainer Tom Proctor, beaten less than a length by Zagora.
The Ramseys' Kitten's Dumplings and Martin Schwartz's French-bred Alterite just finished one-two last out in the Queen Elizabeth II Challenge Cup at Keeneland on October 12. Alterite flies the flag for the Schwartz-Brown team that won the race last year with Zagora.
Two other returning 2012 Breeders' Cup champions defending their titles Saturday will be Fred and William (Buff) Bradley's five-year-old homebred mare Groupie Doll in the $1 million Filly & Mare Sprint and Sherry Racing's four-year-old Trinniberg in the $1.5 million Sprint, both acclaimed Eclipse champions for the season.
Groupie Doll was installed the 5-2 favorite in the field of 12 drawn for the race with regular partner Rajiv Maragh aboard for trainer Buff Bradley and Maragh also rides Trinniberg for trainer Bisnath Parboo in a field of 12 in the Sprint as an 8-1 outsider as he bids to bounce back from a subpar prep when last of seven in the Santa Anita Sprint Championship here on October 5.
Good Friends Stable's Private Zone was made the 3-1 morning line favorite for the wide-open Sprint breaking from post 7. His rivals include Secret Circle, who captured the 2011 Juvenile Sprint.
Also on Saturday, Jim Rome's Mizdirection returns to defend her title in the $1 million Breeders' Cup Turf Sprint. The daughter of Mizzen Mast was installed as the 4-to-1 morning-line favorite in the field of 14.
FOR MORE BREEDER'S CUP NEWS CLICK HERE…
MORNING WORKOUT NEWS
 from  Bloodstock Adviser…
Gary Young
*Gary Young has been clocking horses for nearly 35 years after getting his start for trainer Arnold Winick in Florida in 1978. Young is now based on the West Coast but serves as a bloodstock adviser on private and public auction purchases at tracks and sales throughout the country, having been involved in such recent Grade 1 winners as Evening Jewel, Midnight Lute, Line of David and Life At Ten. 
To hear more from Gary, check out his website at:
Nov 1
  Race 5
  1.)  Gabriel Charles– has trained brilliantly for this race.  He has gears the rest of them don't have.
  2.)  Charming Kitten– has trained very well locally while out working stable mate Bashert easily in his drills.
  3.)  Kid Dreams– very impressive winner at Hawthorne in his last race will be tested for class today.
  Race 6
  1.)  Blueskiesnrainbows– got cooked in a speed dual in his last race.  Has trained very well since his last race and could go wire to wire.
  2.)  Ever Rider– has matched the training schedule of the winner of this races last years addition and looks to be a live contender in this race.
  3.)  Indiana Jones– proven marathoner has looked decent while training for this years race.
  Race 7
  1.)  Bobby's Kitten– won very impressively at Belmont in the prep for this race.  The obvious American choice.
  2.)  Giovanni Boldini– well bred Euro contender has impressed in Europe and is a major contender.
  3.)  Outstrip– Godolphin runner has impressed in Europe and don't expect the Euro's to be blanked in the turf races again this year.
  Race 8
  1.)  Verriazano– talented 3 year old gets a chance to run his best distance and should be tough to deny.
  2.)  Goldencents– must over come poor post position but seems to be a fit at this distance.
  3.)  Brujo de Olleros– South American Import has found his stride recently and could be a long shot.
  Race 9
  1.)  Chriselliam– European filly has impressed immensely in her gallops over the Santa Anita turf course.  The pick.
  2.)  Kitten Kaboodla– recent impressive winner at Keeneland has galloped well locally in seems to be the best of the Americans.
  3.)  Testa Rossi– only American race was an impressive victory and obvious contender.
  Race 10
  1.)  Royal Delta– the raining champion has looked like a beast galloping here the last two days.
  2.)  Beholder- worked freaky for this race.  I was all set to bet on her until I saw Royal Delta gallop.
  3.)  Princess of Sylmar– defeated Royal Delta in her last and looks to do it again.
There were no workouts of note the last 2 days so here are some observations;
OCT. 28 & 29 
Ever Rider
South American import continues to train long distances for the Marathon.  These methods were successful last year and this horse continues to march.
  Blueskiesnandrainbows
Has worked well for the Marathon also.  Pedroza has worked him in all recent works and he should be the pace setter in the race.
  Goldenscents
Drew a bad post position but continues to catch the eye in the morning.  His gallops the last two days have been flawless.
Chariselliam
Recent European arrival that's running in the Juvenile Filly Turf has acted extremely classy in two gallops over the local turf course.
Team Mott has arrived and Royal Delta, Ron The Greek and Flat Out all looked terrific galloping on Wednesday.
  The bulk of Todd Pletcher's starters arrived Monday and Tuesday and as usual they look good. Havana and Capo Bastone both looked full of life on the track Wednesday.
Oct 28
  Justin Phillip    25  48:2
  Hasn't missed a beat since he came to town and finished up his preparation in fine style while drilling in typical fashion for his barn. I think he will run his best race possible Saturday.
  Beholder    25 49:1
  Got her serious work done last week and cruised around this time. Mandella has had a few ok moments at SA in Breeders Cups past and this one will be live in a loaded race.
  Secret Circle 47:1 59:1  out in  1.13:1
  Doesn't move like a gazelle but is a very talented sprinter, who just had a super comeback win could not have looked better. Baffert has done ok in Breeders Cup Sprints in history and this guy might be a decent price.
  Tap It Rich    24:1 48:2  1.01
  Mixed signals here. He was as impressive as could be in his debut but pulled way too hared in his first work after that and had his head cocked in here and was thinking about leaning out. Like Sweat Reason yesterday, this colt has shown much talent in his short career but might not be my choice this Saturday.
  Paynter & Flashback
  24:1 47:4 1.00:2
  Paynter broke a length in front and stayed there thruout in this drill. Paynter is a warrior in every sense of the word. Flashback is a very talented horse coming off a layoff.
  Game On Dude      23:3  47 59:1 out 1.13:3
   Blew away Amazing Hearted and looked good doing it. I will be the first to admit the water gets deeper for Dude but I'd be totally shocked to see him be a no show again.
Oct 27
  Fed Biz   23:3  46:3  out  59:2
  Definitely best while working outside Den's Legacy while well within himself the entire drill. Though not a big robust horse, he has had some races in his career that can put him in the hunt and does have homefield edge in a very tough renewal of the Dirt Mile.
  Sweet Lulu   49
  She worked in the dark and I did not have a watch on her but I do know this. She came through the stretch like a bear for the Troll.
  Secret Compass  35:4   1.00:1   out  1.14
  Much the best in company while striding well in the gallop out. Though the local 2 year olds don't appear to be that special of a crop (with the exception of Tap It Rich), this filly seems to be heading in the right direction.
  She's A Tiger  12:1 24:1 48:2   out 1.01:2
  Gary Stevens did a great job of keeping her somewhat controlled. Her last work she pulled more than one would like to see but was more rateable today. Still not certain she wants to go this far but this drill will help.
  Sweet Ransom   1.21;4   1.46:4
  I loved this filly's first 3 races but I did not care for this work and seemed to have trouble with the surface as well.
Oct 26
  Moreno  24:1 47:1 out 59:2 1.11:3
  Talamo up. This horse worked
wild …Breeders Cup day always has some huge odds on horses that work great and this horse will fit the bill this year. Wow!!
  Authenticity 24 47 out 1.00
  She has been touting her self since her last race and she finished up her preparation in style, sitting off stable mate We Miss Artie and going much the best late. There may only be 6 in the Distaff, but it will be a great race.
  Groupie Doll  24  47:3 out 1.01
  Defending champ looked fine in her only local prep, striding out nicely late. Like most everyone else, I question if she's as good as she was last year at this time but I can't knock this work.
  TURF WORKS
  Spring To The Sky 22:3 45:2
  Built like a quarter horse, he flew on this firm  turf course. He and Reneesgotzip may keep each other company.
  No Jet Lag  34:3 58:3
  He may have went a little too fast but he's training out of his mind since his upset win opening week.
  Oct 25
  Strong Mandate 59 out 1.12:3
  Worked in the dark right after the first renovation break. I know he laid an egg in his last race but he turned in a drill that indicates he might bounce back with a big race. He's a very nice striding colt and did this pretty much in hand.
  Diamond Bachelor  35 1.00:3 1.14:1
  Seems to be heading the wrong way as the Big Day nears. He's been pulling like a banshee in his gallops and works. As the times indicate, his final furlong down to the 7/8 pole was not good and though he's very talented, I don't care for him this weekend.
  Goldencents  35  58:4
  Good work by a horse that usually does drill well. He had a target and was well in hand the entire way for Bejarano.
  Private Zone 37  1.02
  Followed up his unreal 45:2 work last week with a much slower but easy breeze. This horse has his quirks but he can flat run and his previous work made my jaw drop.
    Oct 23
  Flashback 36:3 100:4
  Coming off a layoff and aiming for the Damascus on the Breeders Cup under card. Always been a striking looking horse and though 7/8 off the bench is tough, this was a good work while breaking off 3 behind So Brilliant and easily going by…
Oct 22
Game On Dude 35:1 59 1.11:3 out 1.24:2 1.37:4
  Broke off 5 lengths behind Drill and won by a length at wire before working down to 7/8 pole. He flipped his tail right before the wire, first time I've seen him do that. A typical work for this consummate pro. At age 6 he knows practice and he knows "Game" day.
Book Review 23:4 35:4 1.00:1 out 1.13:1
  Worked even thru out with Executiveprivilege. This filly is nicknamed "Scarecrow" because she's very difficult to keep weight on. If only I had the same problem.She seems to be maintaining her form and 7/8 is her distance. She also should get a good pace to run at.
  Beholder 23:3 35:2 46:3 1.11 out 1.24:4
  Broke off 2 lengths behind Indecise under Gary Stevens and worked as nice as a horse can work. She rated nicely and blew her workmate away with Stevens just sitting on her. Every year we see 3 year olds step up and take on their elders. Some handle it. Some don't but there is no doubt this filly is going to run the best race she is capable of.
Breeders' Cup:
Nine 2012 winners led by Wise Dan among 192 pre-entries
Shigeki Kikkawa
Game On Dude could clinch the Horse of the Year title with a victory in the Breeders' Cup Classic.
ARCADIA, Calif. – Last year, the theme for the Breeders' Cup was "the best is yet to come." This year, it should be "same time, next year," because nine of the horses who won Breeders' Cup races at Santa Anita a year ago, including 2012 Horse of the Year Wise Dan, were announced on Wednesday as pre-entries for this year's event, the 30th Breeders' Cup, to be held here at Santa Anita on Nov. 1-2.
In addition to Wise Dan, who will defend his title in the Mile on turf, the other 2012 Breeders' Cup winners who are trying to win the same race in consecutive years include Fort Larned (who won the Classic), Groupie Doll (Filly and Mare Sprint), Little Mike (Turf), Mizdirection (Turf Sprint), and Trinniberg (Sprint).
The name of the Ladies' Classic has changed – returning to its original moniker, the Distaff – but one constant in that race is two-time champion Royal Delta, who will be back to try to win it for the third straight year. Her Distaff rivals include Beholder, last year's winner of the Juvenile Fillies.
Flotilla, who won the Juvenile Fillies Turf last year, returns this year in the Mile.
[BREEDERS' CUP 2013: See DRF's top contenders]
The most-watched horses, though, could be Game On Dude and Princess of Sylmar, who along with Wise Dan are currently considered the leading candidates for Horse of the Year. Game On Dude, unbeaten this year, would secure Horse of the Year if he prevails in the Classic, the last of the 14 Breeders' Cup races. But if Game On Dude fails, along with Wise Dan, that would make Princess of Sylmar a strong candidate should she have completed her brilliant 2013 campaign with a win in the Distaff on Nov. 1.
The Classic drew a stellar field of 13, including the first four finishers from last year – Fort Larned, Mucho Macho Man, Flat Out, and Ron the Greek. Game On Dude finished seventh last year, when favored. He has not lost since.
The other Classic pre-entries are Graydar, Last Gunfighter, Moreno, Palace Malice, Paynter, Will Take Charge, and the European invaders Declaration of War and Planteur.
Palace Malice won the Belmont Stakes, Will Take Charge won the Travers, and Paynter is trying to complete a remarkable comeback from serious illness more than a year ago.
Befitting a championship event, there are marquee names in just about every race.
Groupie Doll's rivals in the Filly and Mare Sprint include Book Review, Dance to Bristol, Teddy's Promise, and Test winner Sweet Lulu. Beverly D. winner Dank and American representatives Emollient, Laughing, Marketing Mix, and Tiz Flirtatious, are in the Filly and Mare Turf.
The Fugue, another top-class European, is also pre-entered in the Filly and Mare Turf, but she is expected to go in the Turf against the males Little Mike and Point of Entry – who were one-two in the race last year – as well as Big Blue Kitten, Indy Point, and Real Solution.
In addition to Wise Dan and Flotilla, pre-entries in the Mile include Obviously, Za Approval, and the European runner Olympic Glory. The Dirt Mile includes Alpha and Golden Ticket, dead-heat winners of the 2012 Travers, and the 3-year-olds Goldencents and Verrazano.
The Sprint is a sensational race, with Trinniberg facing Bahamian Squall, Justin Phillip, Points Offthebench, Private Zone, Secret Circle, and Sum of the Parts.
This is the seventh time the Breeders' Cup will be held at Santa Anita, which played host to the event last year, and will do so again next year. There will be five Breeders' Cup races on Nov. 1, concluding with the Distaff, and nine more on Nov. 2, including the Classic. Total purses for the 14 Breeders' Cup races is $25 million.
There were 172 individual horses pre-entered in the 14 Breeders' Cup races, and 20 of them were pre-entered in two races, bringing the total number of pre-entries to 192. There were 184 individual horses pre-entered, and 202 total pre-entries, in 2010, the last time there were 14 races. There were 15 BC races in both 2011 and 2012, but the Juvenile Sprint, added those two years, has been dropped.
The pre-entry stage is the first of a two-step entry process. At this point, horses can be pre-entered in more than one race, but when final entries are due and post positions drawn on Monday, a horse must be entered in one race.
The only exception to allow a horse to enter more than one race is if that horse enters a race on Nov. 1, and a race on Nov. 2, and in doing so does not exclude another horse from competing. As an example, Graydar was pre-entered in both the Classic and the Dirt Mile, with the Classic listed as his first preference. But since the Dirt Mile is Nov. 1, and the Classic Nov. 2, the possibility remains that Graydar could be entered in both races on Monday.
Pre-entry field sizes ranged wildly, with a mere six in the Distaff, and as many as 18 in both the Juvenile Turf and Turf Sprint. The Marathon, with 10 pre-entries, is the only race that does not have any cross-entries.
A maximum of 14 horses can run in each race, with the exception of the Dirt Mile, which has a maximum of 12. There were six races – the Dirt Mile, Juvenile Fillies Turf, Juvenile Turf, Mile, Sprint, and Turf Sprint – which at the pre-entry stage were oversubscribed.
In those cases, the field was determined as follows: the first spots were reserved for horses who won qualifying races, commonly known as "Win and You're In" races. The next positions, up to half the field – six horses in the Dirt Mile, seven in all others – went to horses who earned the most points in graded stakes during the calendar year. The remainder of the field was chosen by an international panel of racing officials, and ranked in order of preference, including those currently on the outside looking in.
The rankings in those races would only matter if, at the final entry stage Monday, a race still has more than the maximum number of entries. In those cases, up to two horses would be placed on an also-eligible list. Scratch time for both Nov. 1 and Nov. 2 is 8 a.m. Pacific time Nov. 1.
The Sprint does not figure to be impacted. Though there were 15 pre-entered in that race, three of the runners are cross-entered in other races, and all have the Sprint listed as their second preference, so all who want to run there should get in.
Posted 10/22/2013 10:32PM

Posted 10/27/2013 02:20PM

Posted 10/26/2013 04:45PM

Posted 10/24/2013 02:32PM

Posted 10/26/2013 11:55AM
BREEDER'S CUP CELEBRITY BUZZ!…
The stars are aligning to make this year's Breeders' Cup the can't-miss event of the season. Celebrities from the motion picture, music and fashion industries will be descending upon Santa Anita Park for two days of Championship racing. The Breeders' Cup is truly horse racing's most glamorous event, and it attracts the jet set from every corner of the globe.
Don't miss your chance to see, and be seen with, the VIP crowd as you watch the world's finest race horses compete on the track. Be there at Santa Anita Park when the stars come out.
You can't beat the style, entertainment and excitement of a day at the races, especially when you're watching the world's best Thoroughbreds compete.
KATE UPTON MODEL
It's the richest event in sports, so it's a lot of fun.
KURT RUSSELL TELEVISION AND FILM ACTOR
Exhilaration, pageantry and two days of downright excitement… that's what I call the Breeders' Cup World Championships. Get ready to scream like never before.

BOBBY FLAY CHEF AND THOROUGHBRED ENTHUSIAST.

Breeders' Cup weekend is marked on my calendar every year. I grew up going to the races with my Dad and my love of the sport has only grown. The racing, the fashion, the beautiful tracks and the parties…the Breeders' Cup has it all.

ELIZABETH BANKS FILM ACTRESS
My love for thoroughbred horses and racing closely rivals my love for golf, and it is such a thrill to now be named an ambassador for the Breeders' Cup.
GARY PLAYER PROFESSIONAL GOLFER
The fastest horses in the world will be coming to Santa Anita to compete in the Breeders' Cup in November. It's the richest, most exciting event each year and makes most other sporting events look, well, quaint.

BO DEREK TELEVISION AND FILM ACTRESS.
Conan O'Brien Will Call A Horse Race
He'll take the mic at Santa Anita for the Breeder's Cup
Conan O'Brien is in the saddle for the Breeder's Cup, one of the biggest events in thoroughbred racing.
The playful late-night comic will call next month's race at Santa Anita with experienced track-announcer Trevor Denman, who told the Associated Press he would advise O'Brien to "try to have fun with it."
Conan's never had fun with anything in his life, so this should be good.
FASHION
At the Breeders' Cup, the horses aren't the only ones who strut their stuff. With two full days of the best races and the best parties, the best dress each day is a must. And while some see a racetrack, others see a runway. Both men and women alike use this event to showcase their best style, donning stylist fedoras, chic fascinators and stunning dresses and suits.
Christine A. Moore, Official Milliner Of The 2013 Breeders' Cup
Christine A. Moore founded Christine A. Moore Millinery in 1994. Making appearances on the TODAY show for the past four years and working closely with America's Best Racing to help highlight fashion at many tracks throughout the country, Christine has brought the art of millinery to life through her distinctive style, her attention to detail and her unsurpassed skills. Her wide range of styles, quality and comfort has made her one of the top hat designers in the U.S., praised for her amazing unique racing and events hats.
Each hat Christine designs starts as a still sketch, to ensure every product is unique and well concepted before beginning to build. When those sketches come to life, they are begging to be worn. From start to finish, Christine strives to make every piece unique and to create the best product possible. And as the Queen of Hats, there was no better fashion partner for the Breeders' Cup.
Christine's hats will be worn throughout the track on Nov 1 and 2 and will be sold in two locations at the track and in the Langham and Westin hotels.
Christine's Hat Sketches
CHRISTINE'S WHAT TO WEAR TIPS
With historic Santa Anita Park as the backdrop of this event for the second year in a row, there is no better place to bring back haberdashery and sophisticated daytime dressing. Use the fall season to make a bold statement with color and fabrics and use the event as an excuse to splurge on your best outfits of 2013. Have fun, be adventurous and don't be afraid to attract a little attention!
Attire
For men, add an extra touch of class to a simple suit or a nice sport coat and slacks with a striking long or bow tie. A classic knee-length dress is a woman's best option. And with all that the Breeders' Cup has going on in the infield this year, a wedge style shoe may be a woman's best bet. Also, since the hottest color on fashion runways this fall was purple, Breeders' Cup signature hue, we expect to see a lot of this color.
Dressing to impress is part of the "West Coast Derby" experience, which warrants more extravagant fashion attire than Kentucky's annual horserace – less southern belle-ish and more refined and tailored.
Headwear
Women should try wide-brimmed structured hats, and chic, frilly fascinators. "Hatinators" will be another trend, the bigger fascinators inspired by the Duchess of Cambridge. Men should play with fresh takes on the popular stingy-brim fedora.
SUZEE'S FASHION TIPS…
Yes as Christine says, the "West Coast Derby" is more refined and tailored than the Southern influence found at the Kentucky Derby,…but remember even though this Grand Event is in Pasadena,…it's still like being in LA,…and that means West Coast Trendy.  So have a little fun,…it's expected out there!  And unlike the  serious Fashion of  NY,…make sure to add a little color to your outfit.  Purple is the color of the Breeder's Cup, so men…shades of purple with your shades of gray suite is a great look.  Women…from Black and White, to this year's neutral …Red …make sure you make a statement and stand out like a Winner!  As for hats…well over the past years I found that Hats aren't  the Main Event as in the Derby or Ascot, but as always Horse Racing and Outstanding Millenary  are a winning Perfecta!  But most importantly…it's a long day…so be comfortable.  Women…if your going to be adventurous  and wear those 5 inch heels…then stick a pair of comfy flats somewhere in your handbag. (that's why I am not a fan of the smaller handbags…LOL.)  Plus,… don't forget your cool shades!…Your in Hollywood right???  And even though is Sunny California…make sure to bring a   sweater, blazer, or some sort of wrap,…the evening's can get a bit cool.  Leather jackets with lady like dresses are trending right now if you feel daring.  So have fun,…because if you feel like a winner you'll look like a winner and that's your Winning Ticket!
For more Fashion Tips Check out: