MINUTES TO POST 2017
HOME – FASHION – BEAUTY – FITNESS – HEALTH – RECIPES – SPORTS – REAL GOOD NEW!
MINUTES TO POST!
e-mail us at: coffeebreakwithfriendswebsite@gmail.com
Jerry & Suzee Bailey
It's Post Time!
Join our COFFEEBREAKWITHFRIENDS
Table of Discussion with
2 time Kentucky Derby, Preakness,
and Belmont Stakes Winner 
Jerry Bailey, and his wife Suzee,
who will bring you up-to-date thoroughbred horseracing news
on all the big races and events throughout
THE THOROUGHBRED HORSE RACING  Season!
And don't forget to share your favorite picks or questions
in the comment area below…
or visit Jerry or Suzee on Twitter or Facebook!
http://@jerrydbailey
    Jerry's
   2017 Travers Picks
This is a really closely matched group of three-year-olds we have for the mid summer derby this year and to prove that point we only have to look at the rankings. Eight of the top ten rated colts in the country are running in the Travers today. We have all three Triple Crown race winners, Always Dreaming(Derby), Cloud Computing (Preakness) and Tapwrit (Belmont), as well as the Girvin(Haskell winner), Good Samaritan (Jim Dandy winner), Irap(Indiana and Ohio Derby winner), McCraken(the Matt Winn winner and Haskell runner up) and West Coast (the Los Alamitos Derby winner) from the powerful Bob Baffert barn.
Always Dreaming and Cloud Computing were extremely disappointing in the Jim Dandy and it's hard to believe they can turn things around in just a month so I'm shying away from them. I have always liked McCraken but  he had every chance to win the Haskell and after a bold move from next to last at the halfway mark, he made the lead at the top of the stretch but was caught at the wire by Girvin and since this race adds an additional eighth of a mile, I think he could come up empty late. And although I think the distance will help Girvin, I don't think he's quite as talented and a couple of the others(but it's close and he will likely be in the mix).So that leaves the Belmont winner Tapwrit who hasn't run since winning that race on June 10 ], which begs the question …Can he beat these horses without a prep race? Maybe..I like him to be in the money but I like West Coast a bit more. Like Arrogate last year, he missed the Triple Crowns races but has the credentials to keep stepping up and Baffert usually doesn't send horses this far without a chance, and he will like the distance. I will pick him second. The Jim Dandy winner Good Samaritan is my pick. He won his first two races as a two-year-old including graded stakes. He then finished third in the BC last year and was the best horse since he was forced into the middle of the track in the first turn by a competitor. This year he finished two seconds and a fourth all with trouble in those races.  The big caveat in all of these afore mentioned races is that they were all on turf. The Jim Dandy was his first dirt race and he improved leaps and bounds, and since he won that race with plenty left in the tank, He is my top pick in the 2017 Travers.
Good Samaritan

West Coast

Tapwrit

Girvin

McCraken
I'm with Jerry on this ticket!
************
Belmont Stakes 2017: Post Positions and Odds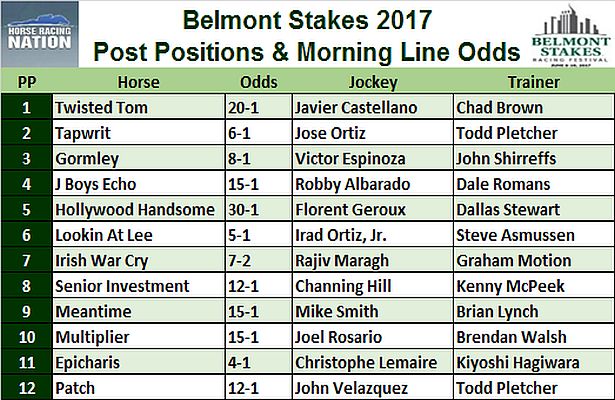 1. Irish War Cry
2.  Tapwrit
3.  Lookin at Lee
4.  Senior Investment
5.  Epicharis
Suzee's Picks!
1.  Irish War Cry
2. Gormley
3. Lookin at Lee
4. Patch -My sentimental favorite!
5. Epicharis – Not sure if he's 100%
LOUISVILLE, Ky. – Classic Empire, the likely favorite for the 149th Belmont Stakes next Saturday at Belmont Park, was sent through his only serious move leading into the third jewel of the Triple Crown, breezing a half-mile in 50 seconds early Friday over a fast Churchill Downs surface.
The work was supposed to come in tandem with Airoforce, his Mark Casse-trained stablemate, but Classic Empire started off too far ahead on the backstretch and proceeded to go solo. That was the only glitch in an otherwise routine drill, which assistant trainer Norman Casse was all too glad to accept.
"Nothing is orthodox about the way we have to train this horse," said Casse, who is Mark's son.
Earlier in the year, Classic Empire, owned by John Oxley, was famously reluctant to train as the Casses struggled to make the Kentucky Derby with him. Over the last couple of months, however, Classic Empire has been on good behavior while reascending to the top of his class. He finished fourth with trouble behind Always Dreaming in the May 6 Derby before being narrowly defeated by Cloud Computing in the May 20 Preakness.
Combined with what he accomplished as the 2-year-old male champion of 2016, his feats this year have prompted voters in the National Thoroughbred Racing Association poll to make him the top-rated 3-year-old in North America in the two weeks since the Preakness.
Perhaps more importantly, the Casses are very optimistic about his chances in the 1 1/2-mile Belmont. In a field that could swell to the 16-horse limit, Classic Empire undoubtedly will be favored.
"We're as excited as you can be coming into a race," said Norman Casse, who is overseeing the Churchill string while his father tends to some of the huge stable's other horses in Ocala, Fla. "We've got the big dog coming into this fight. We'll have the bull's-eye on our back; we understand that."
The Friday work came shortly after dawn broke at about 6:15 a.m. With regular work rider Martin Rivera in from Ocala, Classic Empire went in splits of 24.60 and 37.50 seconds, according to Churchill clocker John Nichols, with a five-furlong gallop-out time of 1:04.
The work didn't come off as it was drawn up on paper, but Casse quickly waved that off.
"The most important thing is we just got it done," said Casse, who watched from the fourth-floor clubhouse. "You never know when this horse might throw a curveball at you. Even though he's been good lately, you still worry about it.
"All things considered, I thought the work was perfect. Here's a horse that's run in a lot of races in a short amount of time. We weren't trying to go any faster than 49, 50 anyways. It looked like he was moving really well through the stretch, and he had plenty left galloping out. Those are all the indicators we were looking for."
Classic Empire has worn blinkers in all six of his races since he wheeled at the start of the Hopeful last September at Saratoga, but he was not equipped with blinkers for the Friday work.
"We haven't been working him in blinkers because we don't really like mixing things up too much with him in the morning," said Casse.
Mark Casse said after the Preakness that he thought Classic Empire might not have seen Cloud Computing closing on him and that he would consider removing the blinkers for the Belmont. But that decision has not been made.
"I'm comfortable with it either way," said Norman Casse.
Classic Empire is booked among a large shipment of Kentucky-based horses on a charter flight Tuesday from Louisville to New York.
Patch in, True Timber out
Calumet Farm ran three horses in the Kentucky Derby and two in the Preakness. While Calumet initially planned to run two in the Belmont Stakes, its lone runner will be Patch, the Louisiana Derby runner-up and 14th-place finisher in the Kentucky Derby.
Patch was confirmed for the Belmont by trainer Todd Pletcher following a workout by the 3-year-old Friday at Belmont Park.
True Timber, Calumet Farm's other intended runner for the Belmont, was withdrawn from consideration by trainer Kiaran McLaughlin after the horse had to be treated for a temperature Friday. True Timber, second in the Grade 3 Withers in February, figured to be one of the longer-priced horses in the field.
Meanwhile, Patch worked five furlongs in 1:01.48 on Friday over Belmont's main track. He worked in company with Tapwrit, who is also starting in the Belmont for Pletcher. The two went together through an opening three furlongs in 37.06 seconds and got their last quarter in 24.42.
Regarding Patch, Pletcher said: "I was happy with the work today. Just exchanged quick texts with the ownership. They're happy to run, so if he comes out of it well, I think we plan to go."
Tapwrit, who was going the easier of the two in the work, was always being considered for the Belmont since his sixth-place finish in the Kentucky Derby. Neither horse, according to Pletcher, is an exceptional work horse.
"They're similar styles," he said. "They're grinding-type styles and not overzealous work horses, so they made a good pair."
Patch ran in the Kentucky Derby off just one win from three starts. He drew post 20 in the Kentucky Derby and got a decent trip early before finishing 14th, beaten 21 lengths by Always Dreaming. He is by Union Rags, the 2012 Belmont winner, and his dam's sire, A.P. Indy, won the 1992 Belmont.
"There's a lot of pedigree there to suggest he's bred to get the mile and a half, and I think his style should suit the race well," Pletcher said.
The defection of True Timber, coupled with that of Conquest Mo Money on Thursday, leaves the likely field for the Belmont Stakes at 12.
Six of the 12 were expected to put in workouts Saturday at five different locations. That includes Irish War Cry at Fair Hill and J Boys Echo at Churchill Downs. Robby Albarado, who rode J Boys Echo to victory in the Grade 3 Gotham at Aqueduct, got back on horses Thursday for the first time since breaking his leg in April and could ride J Boys Echo in the Belmont "if he's ready," trainer Dale Romans told the Churchill Downs publicity department.
– additional reporting by David Grening
Congratulations to Team Cloud Computing!
05/20/2017 8:39PM
Cloud Computing edges Classic Empire in Preakness Stakes; Always Dreaming fades
BALTIMORE – Chad Brown grew up wanting to be a horse trainer; Seth Klarman always has been into finance. Both have reached the top of their professions by focusing more on long-term profit than short-term gain, and their approach was rewarded gloriously on Saturday at Pimlico Race Course when the lightly raced Cloud Computing won the 142nd Preakness Stakes, a race in which Kentucky Derby winner Always Dreaming faded to eighth.
Debra A. Roma
Brown, last year's Eclipse Award-winning trainer, never has won the Derby, so the temptation had to be strong to run both Practical Joke and Cloud Computing – both owned by Klarman and William Lawrence – both of whom had enough points to run in the Derby two weeks ago. But since Cloud Computing had only raced three times since his debut on Feb. 11, Brown thought it smarter to give Cloud Computing more time and await the Preakness. Practical Joke was their sole representative in the Derby, and he finished fifth.
Klarman, one of the world's most respected value investors whose successful hedge fund, Baupost Group, has made him a billionaire, also never has won the Derby, but he also never had won the Preakness, a race close to his heart, as he grew up only blocks from Pimlico. He agreed with Brown to run Practical Joke in the Derby and hold over Cloud Computing for the Preakness.
The final piece of their winning team was jockey Javier Castellano, who was committed to Gunnevera for the Derby but jumped off that colt for the opportunity to ride Cloud Computing for the first time in the Preakness.
And then Cloud Computing stepped up, as they hoped. Though he was the least-experienced horse in the field, he ran like a seasoned veteran right from the start. An alert beginning enabled Castellano to get an ideal stalking trip behind Always Dreaming and Classic Empire, who took it to Always Dreaming as soon as the gates opened.
Classic Empire got the best of that duel and kicked clear in upper stretch, but Cloud Computing ran him down in the final furlong to win by a head before an announced crowd of 140,327. It was another 4 3/4 lengths back to Senior Investment, then came Lookin At Lee, Gunnevera, Multiplier, Conquest Mo Money, Always Dreaming, Hence, and Term of Art.
Cloud Computing, sent off at 13-1, paid $28.80 for $2 to win. He covered 1 3/16 miles on a track rated fast in 1:55.98 and earned $900,000 from a gross purse of $1.5 million.
Bringing in a fresh horse, Brown said, was "part of our strategy."
"Classic Empire and Always Dreaming are two outstanding horses, and our strategy was, if we are ever going to beat them, let's take them on on two weeks' rest when we have six, and it worked," Brown said.
Always Dreaming and Classic Empire were two of five horses in this Preakness who had run in the Derby 14 days earlier. Classic Empire was fourth in the Derby after being mugged at the start, but he was into the race immediately on Saturday, going right with Always Dreaming.
Always Dreaming, the 6-5 favorite, led narrowly through fractions of 23.16 seconds for the quarter, 46.81 seconds for the half, and 1:11 for the first six furlongs, a sharp pace. Too sharp, it turned out, for Always Dreaming, who was starting to struggle under jockey John Velazquez on the final turn.
Classic Empire was sent along at that point by jockey Julien Leparoux, and when the field turned into the stretch after a mile in 1:36.63, it looked like last year's champion 2-year-old male was headed for victory. But Cloud Computing angled out and made up a three-length deficit in the final furlong.
"He rode an excellent race," Brown said of Castellano.
Classic Empire likely deserved a better fate, for he had to run hard every step of the way. His journey this spring has not been ideal, with interrupted training and hoof and back injuries, but this was by far his best race since his victory in the Breeders' Cup Juvenile 28 weeks ago. His trainer, Mark Casse, said he thought Classic Empire might have lasted if Always Dreaming hadn't faded so soon.
"I thought if that horse had carried us a little bit further, we could have been all right," Casse said.
Always Dreaming, who had won four straight races, was returning on two weeks' rest for the first time in his career and could not handle that nor the early pressure from a top-class rival.
"When he hooked us and the horse didn't respond the way you'd want, I knew then we didn't have it today," said his trainer, Todd Pletcher.
"He showed in the Derby he's capable of handling pace pressure," said Pletcher, adding that "maybe the quick turnaround, maybe a different surface" were reasons for the subpar effort.
His defeat ends any hope of a Triple Crown bid in the Belmont Stakes in three weeks, and considering how Always Dreaming ran on Saturday, and how Cloud Computing ran his best race with plenty of time between starts, it's quite likely that this Belmont will not have the Derby nor Preakness winner.
While this was the first win in a Triple Crown race of any kind for Brown, it was the second Preakness win for Castellano, whose only prior Preakness win, with Bernardini in 2006, also came with a horse who skipped the Derby.
Klarman had attended many a Preakness before, starting as a youth gambling from the infield. He plays at a different level now, and this win was satisfying not only because of the location but also because he turns 60 on Sunday.
"I grew up three blocks from here," Klarman said. "I came to the Preakness many, many times."
"I'm so happy for him because he grew up in this town, Baltimore, and I know it's huge for him," Castellano said.
Cloud Computing, a son of Maclean's Music, was purchased for Klarman – who races as Klaravich Stables – and Lawrence as a yearling by Brown and bloodstock agent Mike Ryan for $200,000, reflecting Klarman's value approach to acquiring horses, as he'd rather have 10 at that price that one at $2 million. Cloud Computing was close to racing last summer at Saratoga before an ankle chip sidelined him for the rest of the year.
He did not make his first start until Feb. 11, when he defeated maidens going six furlongs at Aqueduct. He was immediately stepped up to stakes company and finished second in the Grade 3 Gotham on March 4. He came back on April 8 in the Grade 2 Wood Memorial and finished third.
"We just ran out of time" to make the Derby, Brown said.
For the Preakness, though, time was on their side. Their investment paid off.
Thought you all might enjoy this…Jerry had a great time filming these commercials for NBC and the Golf Channel.  Jason Day is a wonderful person!  So generous with all of his fans.  
He's got two new fans now!
=
A little Pre-Race Coverage?  🙂
=
BALTIMORE – A little more than 60 hours prior to the Preakness Stakes on Saturday, Kentucky Derby winner Always Dreaming stepped onto the Pimlico track at 5:33 a.m. Thursday, ready for his daily exercise. Turned loose from the pony accompanying him, he immediately set out with keen interest for his 1 1/2-mile gallop, looking nothing like a horse just 12 days removed from the biggest test of his career, the Kentucky Derby.
"That's the way he's been since he's been here," his trainer, Todd Pletcher, said as Always Dreaming marched back to the stakes barn under exercise rider Nick Bush as the sun started to come over the horizon. "Except for one morning when he tried to buck Nick off, he's gotten progressively stronger."
For the first and likely only time in his career, Always Dreaming will run back on two weeks' rest on Saturday. It can be a challenge for any horse in this modern era, where races are often well spaced, an approach that Pletcher has embraced with most of his horses.
The Triple Crown, though, requires horses to adhere to the calendar. To get to this point, Pletcher has kept Always Dreaming relatively fresh. By bypassing a series of prep races in stakes and focusing on smaller building blocks, Pletcher gambled that he would have a colt who would produce when it mattered in the Florida Derby and thus would be set for the demands of what lay ahead.
To date, it has all gone perfectly. Always Dreaming eased into his 3-year-old campaign by winning a maiden race against overmatched rivals at Tampa Bay Downs. Instead of throwing Always Dreaming into the Fountain of Youth Stakes on March 4, Pletcher ran him in an allowance race that day at Gulfstream against inferior competition.
So, when Always Dreaming lined up for the Florida Derby on April 1, he had exactly zero points toward a berth in the Kentucky Derby. The Florida Derby was his one shot to make the field. And when he won, he was in. Five weeks later, he outran 19 rivals in the Derby while earning a career-best Beyer Speed Figure of 102.
"To have a vision four or five months in advance and have it work out is very satisfying," Pletcher said the night of the Derby.
The next morning, Pletcher said he believed that running Always Dreaming in consecutive 1 1/8-mile races at Gulfstream gave the colt "a good foundation" for the Derby's 1 1/4 miles.
On Saturday, in the second leg of the Triple Crown, Always Dreaming cuts back 110 yards to 1 3/16 miles, so distance is not a question. And of the 19 horses Always Dreaming beat at Churchill Downs, only four – Lookin At Lee, Classic Empire, Gunnevera, and Hence – are back to challenge in the Preakness. There are five newcomers to the Triple Crown – Cloud Computing, Conquest Mo Money, Multiplier, Senior Investment, and Term of Art – and with a field of 10, the Preakness has half the number of runners as the Derby.
The smaller field hopefully will produce a cleaner race than the Derby, in which several horses – including Preakness runners Classic Empire and Hence – were compromised. Always Dreaming, though, avoided the trouble, the benefit of having a horse with tactical speed who breaks well.
"He gets into a rhythm, clicking off pretty solid fractions," Pletcher said. "To get into that high-cruising speed and maintain it from a mile and an eighth to a mile and a quarter, it takes an elite horse."
Always Dreaming starts from post 4, with Classic Empire – who finished fourth in the Derby after getting wiped out at the start – right alongside in post 5. Classic Empire is probably not as quick as Always Dreaming unless asked aggressively, but it's likely he'll want to be lapped onto Always Dreaming from the start.
Conquest Mo Money, making his first start since finishing second to Classic Empire in the Arkansas Derby – and supplemented to the Preakness and Belmont for $150,000 – is the pace wild card. He drew the outside post and has the speed to pressure Always Dreaming, or even gun for the lead, a scenario Pletcher has examined in regard to Always Dreaming.
"If the situation presents itself and he's third or fourth or even fifth behind horses, I don't think it'll be an issue," Pletcher said.
More important, as in the Derby, is for jockey John Velazquez to get Always Dreaming into a position where his long, loping stride is unencumbered. Velazquez deftly got outside of pacesetter State of Honor in the Derby, turning into the backstretch to be in the clear. If someone else is committed to the lead in the Preakness, Velazquez may have to make a similar move. But it's entirely possible that Always Dreaming takes up the early running, and his rivals will have to try to overtake him.
Classic Empire is the clear second choice. He ran a remarkable race to finish fourth in the Derby after a start that resulted in him being shuffled to the back half of the field in the opening quarter-mile.
"I think this race sets up nice for us," said Mark Casse, who trains Classic Empire. "But I thought the Derby set up nice for us. I thought we'd be fourth of fifth after the start, and we were 13th."
Casse said that jockey Julien Leparoux told him after the race: "I don't know how I stayed up. I didn't get bumped. I got clobbered."
Cloud Computing should be able to sit a good trip just off the leaders, while Gunnevera, Hence, Lookin At Lee, Multiplier, Senior Investment, and Term of Art all will be hoping a hot pace develops that leaves the leaders vulnerable to their closing charges.
Term of Art is adding blinkers. That is the only equipment change among the 10 runners.
The Preakness, worth $1.5 million, goes as race 13 on a 14-race card that begins at 10:30 a.m. Eastern. Post time for the Preakness is listed as 6:48 p.m. It will be shown live on NBC in a telecast beginning at 5 p.m.
Preceding the Preakness are seven stakes races, three of them graded, including the Grade 2, $250,000 Dixie for older grass runners, including World Approval and Ring Weekend, and the Grade 3, $150,000 Maryland Sprint, which includes Whitmore and A. P. Indian.
The Maryland Sprint and the Grade 3, $150,000 Gallorette for female grass runners will be shown during NBCSN's coverage, which begins at 2:30 p.m.
It was extremely hot and humid here Thursday, with a high of 94 degrees, according to The Weather Channel, but a thunderstorm predicted for Friday is forecast to result in a gorgeous day Saturday, with a high of 69 degrees and no rain.
Jerry's picks!
           Preakness Stakes 2017
There is absolutely no reason Always Dreaming cannot win the second leg of the triple crown, but there is also a very good chance that Classic Empire can upset him. Many have said the rail was faster than any other part of the track on Derby day but even if it wasn't faster, just equally as fast, it's still the shortest way home so by default it's the best place to run so yes Always Dreaming had the advantage that day and he may not in the Preakness. However,  Always Dreamig was under pressure almost the entire Derby yet still out sprinted all other horses during the stretch run,… and with tactical speed to lead or stalk, AND the best position jockey in the world on his back, it's almost impossible to be at a disadvantage strategically during a race. He should be 1,2,3 from the outset but keep in mind that only 10 of the last 30 Preakness winners have been 1,2,3 throughout the race.
With post position 4 in the Preakness, jockey Johnny Velazquez will send the Derby winner to the lead and play 'catch me if you can.'
As good of a trip as Always Dreaming had in the Derby, Classic Empire, had a nightmare trip.  Slammed hard repeatedly during the first eighth of a mile, he was also farther back than he had ever been and ran 75 feet ( at least seven lengths) further than the winner.  If he can get the better Preakness trip from gate to wire, there is no reason he cannot turn the tables on Always Dreaming, but his jockey Julien Leparoux will need to establish his forward position early in the race, and draw the five post I think he should go right after Always Dreaming for the start but Leparoux usually elects to defer in this situation and may likely let Conquest Mo Money pressure the Derby winner early since he has enough speed to do so, and that's how he runs anyway. The problem with that strategy is that the rider of Conquest Mo Money may not pressure on the leader to the extent needed and Classic Empire may need to go wider just to get around that one. Lookin at Lee and Gunnevera will need a hot pace up front early to have a closers chance.
Cloud Computing overcame trouble at the start in his debut to win going away in spite of it, and in his next race he chased into a hot pace in the Gotham but hung on well to be second and other than a little bit of a wide trip in the Wood, he had no excuse other than Irish War Cry ran one of the best preps in the country.  Chad Brown was wise to skip the Derby but the question remains is he ready for this?
Hence- he was last early in the Derby while three wide most of the first turn, slowly made up ground while in the two path, steadied slightly middle of the last turn then made up very little ground in the stretch.
Gunnevera- got caught up in the scrum during the first 1/8 of a mile in the Derby and was pretty wide throughout the last half of the race but was beaten 13 lengths.
Multiplier..appeared beaten in the Illinois Derby in mid-stretch but surged late to get the win over Hedge Fund. He would need to run a lot faster to be competitive in here and he runs mid pack…
Senior Investment- only a mild closing kick in his disappointing 6th place finish in the LA Derby but rebounded with last to first flying finish in the Lexington Stakes at Keeneland April 15 and will have has 5 weeks to recover. He will again come from far back in the Preakness for jockey Channing Hill and trainer Kenny McPeek.
Term Of Art. Deep closing California invader has been pretty ordinary in his last four starts but puts the blinkers back on for this race in hopes of a wake-up call.
1. Always Dreaming
2. Classic Empire
3. Lookin at Lee
1.  Classic Empire
2. Always Dreaming
3. Conquest Mo Money
Gary's Picks!
1. Classic Empire
2. Always Dreaming
3. Lookin at Lee
PC'S PICKS!
4-1-5-9-8
Don't forget to send us your picks!
---
You can talk all you want about how Always Dreaming had a perfect stalking trip in Saturday's Kentucky Derby. You can snicker all you want about what a cliché it has become when people say that horses with positional speed such as Always Dreaming make their own good trips. And you can lament all you want about how the sloppy track conditions at Churchill Downs over the weekend may have compromised so many horses in the Derby who had no experience on such footing.
Barbara D. Livingston
You can do all of that. But I will respond by saying, very nicely, that I don't want to hear it.
Why?
Because Always Dreaming was tons the best winning the Derby. He was as deserving a winner as you will see in the Kentucky Derby, and all it takes to understand that is a simple consideration of pace.
Always Dreaming, as is his wont, was intensely involved from the start Saturday. Now, consider the list of horses who were with him in the long run to and around the first turn:
– State of Honor
– Battle of Midway
– Irish War Cry
– Fast and Accurate
– Irap
– Gormley
– Practical Joke
Why is this list important? Because as Always Dreaming was bounding home in front by daylight, you needed a telescope to find the other seven horses at the finish who were with him early. Okay. Battle of Midway did finish third, but he was beaten a long, long way.
The point here is Always Dreaming ran hard every step of the way. The quality of his performance is underscored by the fact that all of those horses who tried to keep up with him early paid a steep price late – a price that Always Dreaming never even remotely thought of paying.
Now, the big question is can Always Dreaming come back with another top-class performance just two weeks from now in the Preakness? That is THE question that will be the hot-button topic over the next 14 days.
Every horse is an individual, and though he has never been asked to run back so quickly, maybe Always Dreaming will love it. We don't know that, but we do know this: For all of his incredible success, and for all he does so well, Todd Pletcher, Always Dreaming's trainer, has not been active or successful at bringing horses back on short rest in top stakes races.
In fact, according to Formulator, over the last five years – during which Pletcher has had almost 5,200 starters – he started only two horses in Grade 1 stakes going a route on dirt off layoffs of between only 12 and 15 days. One was Caixa Eletronica, who finished eighth, beaten 13 1/2 lengths in the 2012 Whitney. The other was Dontbetwithbruno, who finished sixth, beaten 28 1/4 lengths in the 2015 Haskell.
Always Dreaming was very good Saturday. The Preakness will be another chance for him to do something very good, just in a different way.
Of all the also-rans in this Derby, the one I'm most interested in going forward is Classic Empire. Classic Empire was banged around badly at the start, putting him farther off the early pace than he is accustomed to. He also had trouble in the stretch. When you combine this with the fact that Classic Empire's preparation for the Derby was so compromised by a foot abscess and misbehavior, I think he did remarkably well to finish a willing fourth. I'd love to see Classic Empire take on Always Dreaming in the Preakness, because I think he'll move forward off the Derby in a big way.unt
One final point regarding the Derby. Many people feel that since Always Dreaming and runner-up Lookin At Lee were toward the inside all the way that the rail at Churchill must have been especially good Saturday, like it was on Friday. Not true. Anyone who paid close attention to all of the main-track races Saturday at Churchill knows that the track played fairly.
Notes:
** Abel Tasman capitalized on a complete pace meltdown to win Friday's Kentucky Oaks. Others had a chance to capitalize in identical fashion, but to her credit she was the one who actually did. The Oaks is the most important race a 3-year-old filly can win, so Abel Tasman's victory must at least put her in the conversation on leading members of her division. But that said, I can't help but think the distinction of divisional leader goes back to one who is currently recovering from a shin issue, and wasn't even in action Friday – Unique Bella.
Two reasons why I feel Unique Bella is back on top without even running:
First, Paradise Woods had a golden opportunity to cement her divisional leadership in the Oaks if she could follow up on her sensationally fast and big score in the Santa Anita Oaks. But she couldn't (understandably) after being cooked in a speed duel with Miss Sky Warrior that was totally senseless, and completely destructive to the chances of both. Paradise Woods gave way to finish 11th of 14 (Miss Sky Warrior wound up a weary eighth), and there went her control of divisional leadership, for the time being, anyway.
Second, Abel Tasman had a crack at Unique Bella in the Santa Ysabel in early March, but was unsuccessful. Abel Tasman did throw a momentary scare into the brilliant Unique Bella when she made a bold run at her in upper stretch. But in a jaw-dropping display that made everyone watching wonder just how many gears she has, Unique Bella instantly flicked Abel Tasman's challenge aside and went on to win with total authority.
Abel Tasman isn't as good as Unique Bella. I'm also still not entirely convinced Abel Tasman is as good as Paradise Woods without the benefit of a tremendous setup. But we did know that Abel Tasman was not almost 12 lengths inferior to Paradise Woods, the margin she was beaten when second in the Santa Anita Oaks, because she was clearly left with way too much to do in the late stages on that day. And importantly, we now know Abel Tasman is the Kentucky Oaks winner, and all else aside, that's important stuff.
** When it comes to potential future impact, perhaps the most important stakes on Saturday not named the Kentucky Derby was the Westchester at Belmont. Connect, winner of the Pennsylvania Derby last fall over Gun Runner, and making his first start since winning the Cigar Mile, absolutely dominated the Westchester field, which included the once-heralded Mohaymen. Connect needs only health, and to avoid Arrogate, to be a major player this year in the handicap division.
** With due respect to Roca Rojo and the Churchill Distaff Turf mile, the best turf race for females Saturday was the Sheepshead Bay, also at Belmont. Sea Calisi shocked her opposition with an impressive, outside burst of speed late on the far turn that carried her to a clear-cut score. But as good as Sea Calisi was, second-place finisher Suffused impressed, too. Suffused was caught in a switch you could see coming late on the far turn, and was caught in traffic while Sea Calisi was taking the race by the throat with an unobstructed run. Yet Suffused still chased gamely all the way down to the wire, and showed she's not that far off Sea Calisi.
** Females also put on a terrific show in the Humana Distaff. Paulassilverlining made the Humana Distaff her second straight Grade 1 score since moving into Chad Brown's barn (she won the Madison at Keeneland last month) and seems to be in career form. Finest City, the defending champion female sprinter, was a fine second, beaten just a neck. And Carina Mia's close third was an excellent effort when you consider this was her first start in six months and was spotting all-important recent racing to the top two.
** I've been a big fan of Divisidero from very early in his career, and I must admit that after he was set up to run big in his last two starts and failed to do so, I feared his best days were behind him. Well, Divisidero proved he is not done yet when he produced a powerful late surge to win the Woodford Reserve Turf Classic. This was his second straight win in this event, and third straight victory in an undercard stakes on Kentucky Derby Day, so Divisidero also proved he knows what day it is.
** As noted up top, until at least the Kentucky Oaks, Friday's sloppy main track at Churchill was decidedly tilted in favor of rail runners, and by extension, speed horses. (When speed is good, it almost always means that the rail is good because speed horses naturally gravitate toward the inside, forcing closers to the outside and the poorer footing.)
The way Churchill's track played Friday had a significant impact on the undercard stakes. Big World's front-running upset in the La Troienne and Bird Song's front-running upset in the Alysheba were almost entirely functions of how the track played. I'm still trying to figure out how Bird Song got as completely loose as he did in the Alysheba, considering all the other speed in that race; but he did, and school was out early.
But credit should go to Honorable Duty and Romantic Vision, the runners-up in the Alysheba and La Troienne, respectively. Both tried hard against the grain of the track and ran winning races in defeat. They, and everyone else who ran well against the track Friday, should be upgraded in future starts.
** The track also had a huge say in the outcome of the Eight Belles. Benner Island, who was cutting back in distance and who previously showed no early speed, rushed up from the one hole under an alert Javier Castellano to dispute the pace. Benner Island showing this surprising speed, even in an Eight Belles without a lot of pace, was evidence of how strong the inside was at that point in the card.
Benner Island was lucky to win, however, and not just because she rode the bias. Second-place finisher Union Strike had an opening on the rail in midstretch, which Benner Island closed without fouling, forcing Union Strike to steady and angle out. Despite losing momentum at a critical moment of the stretch drive, Union Strike re-rallied, just missed and was unlucky not to win.
** La Coronel impressed by winning the Edgewood and, for me, not only because she won despite going very wide into the stretch. I just had the sense La Coronel wasn't entirely confident with the footing in her first encounter with off turf, and think she got up over stablemate Dream Dancing because she's so darn good. Either way, La Coronel is a beast, and I believe she has even better performances ahead.
flv=
---
 Jerry's 
Kentucky Derby 2017
Top Five 
In a year of mediocrity and inconsistency among the three-year-old colts heading to Kentucky Derby 2017, only one horse has won back to back prep race.   There have been no breathtaking performances, as of yet…even last yeat's two-year-old champion has had a very rocky spring.  So my top five this year are very closely bunched in talent…or lack of.
1. IRISH WAR CRY
 Irish War Cry -A prime example of the many horses that couldn't put back-to-back prep wins together this spring. He won the Holy Bull like a good horse even though he had an easy lead with moderate fractions. He then came back in the Fountain of Youth stakes and flopped badly when he failed to get the early lead, which lead me to believe that he was a one-dimensional "need the lead speed horse". His trainer Graham Motion did a sensational job of teaching this horse to settle off the early lead leading up to the Wood Memorial and his new jockey Rajiv Maragh coaxed this colt to sit third early which enabled him to finish strongly and get the win in a style he hadn't shown prior.
*****
2. CLASSIC EMPIRE
Classic Empire. The 2016 two-year-old champ has had an upside down spring with physical as well as mental issues that caused him to miss a workout and scheduled races. His 2017 debut was an uninspiring third in the Holy Bull stakes behind Irish War Cry and Gunnevera while getting very upset in the pre-race warm up. His trainer Mark Casse then changed course and scheduled his next race in the Tampa Derby but with a sore back and foot issue, he scrapped that plan . The colt then refused to work on more than one occasion at his home base of Palm Meadows so Casse took him back to the farm in Ocala where he prepared for the Bluegrass stakes but that plan was changed in favor of the Arkansas Derby. He did manage a hard-fought victory in that race and seems back on track but he cannot afford any more setbacks on his way to Derby Day.
****
3. ALWAYS DREAMING
Always Dreaming- Winner of the Florida Derby, this son of Derby and Preakness runner-up Bodemeister is one of five possible starters from the powerful Todd Pletcher barn. Although he led wire to wire in the Florida Derby, he can easily sit just off the pace should the situation dictate and that race seems to be the strongest of the Derby preps and he gives Pletcher his best chance of winning his second Kentucky Derby and with Johnny Velazquez likely to ride, it would put a bow on their partnership.
****
4. McCRAKEN
McCraken- Undefeated until his ordinary third in the Bluegrass stakes, this son of Ghostzapper has lost a bit of his luster in the last two months because of a strained ankle in training that caused him to miss a scheduled start in the Tampa Derby. He surely would have favored in that race based upon his record-setting performance in the Sam Davis stakes a month earlier. Even though he only missed only one workout and that race, he seems very lackluster in the Bluegrass and he would need to train exceptionally in the coming weeks to be a factor on the first Saturday in May. He does have three wins in as many start over Churchill Downs which is a big positive.
*****
5. TAPWRIT
Tapwrit- It's hard to know what to expect from this Tapit Coltand at 1.2 million at auction he is the most expensive purchase in the field. Just when I thought he was worth his price after winning the Tampa Derby in record time, he threw in a stinker running 5th beaten 11 lengths in the Bluegrass. He has however trained exceptionally since then, especially at Churchill Downs. My real concern is that he doesn't have quick acceleration when running through the middle of the race and with holes and opportunities developing quickly and then vanishing even quicker, it's really helpful for to have that "push button" burst of speed and his is more gradual. On the other hand, the mile and a quarter lends itself to this kind of style if he can get a clear run from the halfway point in the race without having to check in traffic or go really wide on the turns.
Suzee's Picks!
1. Irish War Cry
2.  Battle of Midway…(History Lover!)
3. Tapwrit
4. Patch.(Heart Bet) 
How can you not root for Horse competing in this Grand Event with one eye!!!
1) Irish War Cry
2) Tapwrit
3) McCracken
*****
---
Jerry's Top 5!
Check back often since this list may change!
Kentucky Oaks 2017
Top Five
Until a month ago there was only one three-year-old filly to talk about and that was Unique Bella, but with her injury, the field has a lot of parity. There were a couple of WOW performances of late and some lightly raced fillies with tons of promise which should make for a very competitive Oaks and although the star in on the sidelines, another one could easily emerge from this year's race.
 1.Paradise Woods
This filly by Belmont winner Union Rags comes off one of the best performances by any three- year= old this year male or female in her Santa Anita Oaks win. In fact, I'm wondering if she ran too fast in her Oaks prep which was only her third career start after breaking her maiden on March 11. She went straight to the lead in the 7 horse field and won by almost 12 lengths. Trained by Richard Mandella and ridden by the red-hot Flavien Pratt, she figures to be one of the top choices on the day preceding the Derby.
2. Miss Sky Warrior
Another who comes off a dominant win in her Oaks prep while winning the Gazelle by 13 lengths while merely galloping at 80% through most of the stretch. Although she rated just off the leaders in the Davona Dale at Gulfstream Park, her only other start this year, she has typically used her speed to win the five of her six- lifetime starts. She's the only one in the field that has already won (twice) at the Oaks distance of a mile and an eighth.
3.  Salty
With a past performance that reads just like Paradise Woods, this daughter of Quality Road didn't start as a two-year-old and had only three-lifetime races but won the GP Oaks after breaking her maiden around one turn. Although not as impressive as PW in her latest win, she has certainly matured with each start and unlike the top two, she would appreciate a fast pace up front early to compliment her come from behind style. She is trained by Mark Casse and ridden by 2013 Kentucky Derby winning jockey Joel Rosario.
4. Farrell
Along with Miss Sky Warrior. she has the most lifetime wins in the field with five, along with a four-race win streak which includes the Fair Grounds Oaks in her last race. Although she has yet to show the brilliance of some in here, she has the most versatility of the top five. She is basically a speed horse that rates in second or third depending on the way the race sets up. She is trained by Wayne Catalano who won almost 1800 races as a jockey and over 2500 as a trainer including three Breeders Cup races, and she is ridden by Channing Hill.
5. Abel Tasman
Looked like the heir apparent when Unique Bella was sidelined as she gave that one all she could handle in the Santa Yesabelle finishing second, but this Quality Road filly was a bit of a disappointment in the Santa Anita Oaks in her final prep before heading to Kentucky. In that race where she was off slowly and was even slower to get into the mix, which made it impossible to challenge Paradise Woods who ran lights out.
Suzee's Top 5
1.ABEL TASMAN
2. PARADISE WOODS
3. FARREL
4. MISS SKY WARRIOR
5. LOCKDOWN
Gary's Picks!
1.Paradise Woods
2. Abel Tasman
3.Salty
Value-Vexatious
---
MORNING WORKOUTS
with Gary Young
May 4
There was nothing I saw Thursday morning to alter my thoughts in either of the marquee races so without any further ado let's get down to the final thoughts and selections on this years Oaks and Derby.
My Oaks selection is going to be the chalk Paradise Woods. Two moths ago after the Las Virgines Stakes at Santa Anita it seemed this race was a near certainty for the freak filly Unique Bella but her troublesome shins resurfaced and the race, for a while, appeared wide open. Then they conducted the Santa Anita Oaks and we witnessed a coming out party for Paradise Woods. I was shocked when she didn't win on debut, but many top horses don't. She then won her second start rather dominantly which led to the SA Oaks. Abel Tasman had inherited top Cal three-year-old filly status after Unique Bella's defection but got dethroned in a huge way here. This race was over half way around the first turn. This amazon dismantled the field and the videos of her works since then, combined with her gallops since her arrival here make her an obvious choice. Her task may have gotten slightly less daunting when she drew a perfect post and two of her main rivals, the afore mentioned Abel Tasman, and Salty drew the 13 and 14 holes respectively.
For those gamblers looking for value in this race, I recommend Vexatious.  She has always hinted at being a developing talent and, if Paradise Woods runs the pace stalkers into submission, could run late to make the trifecta or superfecta pay enough where you won't be ashamed to cash your ticket.
Now, on to the Derby.
1) Lookin at Lee- long legged late running sort comes from downtown so the rail draw shouldn't affect him as much as it would others. He is always making up ground and while a win would be a surprise, I can see him hitting the board with the right pace scenario and trip.
2) Thunder Snow- moves like a grass horse, and though this race got opened up in a huge way with the injury to Mastery, I can't see him having much impact here.
3) Fast and Accurate- it's hot and dirty time for this hard trying dude.
4) Untrapped- massive eye-catching colt has galloped fine here after the standard easy half mile final work for Steven A but remains a question on ability and distance as far as this race is concerned.
5) Always Dreaming- had a good workout last Friday while needing restraint to not do too much in the early stages of it. Then things started to get complicated. Saturday morning he returned to the track and was more eager than his world class trainer would've liked. Sunday morning he was a real handful, throwing his head multiple times and being totally uncontrollable. The exercise rider change and the addition of draw reigns commenced Monday and he has been much better for the most part since then. However, he has parts of his gallops even then that cause concern as to how much controllability he will have Derby day when the draw reigns come off.
6) State of Honor- may very well be a pace factor as he also seems to be a higher than average energy sort, but I think him trying a mile and a quarter will be like if I tried running in the Derby 5k run earlier this week.
7) Girvin- has had much-publicized feet issues this week and did most of his preparations at Keeneland. His local gallops suggest he's still battling those sore tootsies and I will not be using him Saturday.
8) Hence- flashy chestnut colt has trained forwardly all week. He gets a little warm on his neck, but does not seem nervous at all. Horses are like people. Some sweat more than others. I think he can hit the board but would need a total pace meltdown to win this in my opinion.
9) Iraq- conventional gamblers will say," I didn't go to the wedding, I'm not going to the funeral!"… on this colt and perhaps justifiably so, but I can't knock the video of his works across town or his local gallops. He is a much more developed colt than I saw train all winter in L.A.
10) Gunnevera- slender chestnut has accomplished a lot and had some minor excuses in the Fla Derby but has danced quite a few dances and may be on the other side of midnight.
11) Battle of Midway- arguably ran the best race in the suspect Santa Anita Derby when inexplicably put on the lead with two others in 46:2. Still, he was in front with 50 yards to go. The video of his work with Prat up was decent and he'd be my choice of the California brigade.
12) Sonneteer- had a terrific work over a damp Churchill surface for this race to the point that I can see him hitting the board. A win by a maiden in the Derby would stun me and the rest of the racing world. His owner has three in the Derby and that may be enough to get him to show up at The Downs Saturday.
13) J Boys Echo- reportedly not much of a work- horse, he proved best in company during his last drill while looking moderate.
14) Classic Empire- wowed me in the championship deciding Breeders Cup last year, then had some bumps in the road before rebounding in the Arkansas Derby. Seeing that was only three weeks ago, it was expected and delivered that his one and only work for this race was a half in 49:2. Another that has had his attitude issues, he doesn't get too exited while galloping. Then again, who am I to question a horse about attitude.
15) McCraken- athletic medium sized colt has done everything right since his so so return in the Blue Grass. He is 3-3 at the Twin Spires and I believe will run his best race Saturday. Whether that will be enough, time will tell.
16) Tapwrit- was on his way to being on everyone's top 3 list after the Tampa Derby then tossed a Hindenburg of enormous proportions in the Blue Grass. Everything he has done since I've laid eyes on him locally suggest he's going to return to his Tampa form. In a race chock full of possible price plays, he may be the livest longshot there is.
17) Irish War Cry- yet another contender that tossed in a clunker on his way down the Derby trail. He rebounded with an authoritative triumph in the Wood over yet another suspect group. His first day on the track Tuesday he was slightly keyed up but has settled in to gallop beautifully since. If his Fountain of Youth flop didn't exist he would be a clear favorite, but it did take place and thus he will be 2nd or 3rd choice Saturday.
18) Gormley- took advantage of a perfect trip to capture the SA Derby. Obviously this years California division lost a lot of luster when Mastery went down but in an open race, it will be interesting to see how they perform.
19) Practical Joke- to look at him one would think he could get the ten furlongs but doubts persist as to whether he can. He looks terrific and Saturday will be his judgment day as far as distance.
20) Patch- seems to have a lot of personality and any horse that makes it to this stage with only one eye deserves much props. He was up against to begin with then drew the far outside post so I won't be wagering on him…but ya can't help but love the big guy.
1) Irish War Cry
2) Tapwrit
3) McCracken
report is property of TwinSpires and any reuse must credit TwinSpires.com
WORKS
April 28
Classic Empire 24:4 49:1
Worked just before my arrival and it appeared to be a maintenance work, not surprising seeing he will be running back in 3 weeks. There is no question he has the talent to compete in this edition of the Derby, the rub is the quick turnaround and what side of the bed he awakes on Derby day!
Always Dreaming 24:3 35:2 59:3 out 1.12:3 1.25:3 1.40:2
Seems to be an energetic type judging from his gallops and Johnny V settled him into a nice stride early on. Continued at a good pace, receiving only light coaxing the final furlong and galloped out well.
Tapwrit & Patch  23:4 36 1.00 out 1.12:3 1.26 1.40:2
The Godfather matched two big colts who really prefer afternoon exercise to that of the morning and it appeared to work well. Tapwrit was best the entire work, lost a bit of focus after the wire before galloping out in tandem with his workmate. Why he ran so poorly in the Blue Grass is a true mystery but he worked well today.
Battalion Runner. 12:3 24:4 48:2 out 1.01:2
I don't know what this colts work talents are but I was not thrilled with this move. Came up slightly second best to Made You Look, who may be worth a couple of rubles when performing.
Gunnevera  39 51:4 1.18:1
Over achiever has accumulated quite a resume but did not impress in this drill. He seemed on the other side of midnight at the wire here.
Practical Joke  36:4 1.01:2  
Worked during the busy time of Derby/Oaks session and proved best over his company with his newly fitted blinkers with Rosario aboard. He never runs a bad race and faces his biggest test Derby day.
State of Honor  24:2 48:4
Was well within himself the entire way.
Salty. 47:3  out 1.00:4
Oaks hopeful was best in company and looked good
Vexatious 1.14:3
Seemed to enjoy her new surroundings for my man Drysdale. While a win in the Oaks might be a bit of a stretch, she could trigger a good tri/super payoff
The preceding report is property of Twin Spires and any reuse must credit Twinsires.com
---
DERBY NEWS!
Churchill Downs Racetrack today announced that multi-platinum recording artist Harry Connick Jr. will sing our national anthem at the 143rd Kentucky Derby Presented by Yum! Brands (G1) on Saturday, May 6, 2017.
The multiple Grammy and Emmy award-winning entertainer and host and executive producer of his own nationally syndicated entertainment show HARRY, will perform "The Star-Spangled Banner" live for more than 160,000 fans at the Kentucky Derby. The performance will take place in the Kentucky Derby Winner's Circle just after 5:00 p.m. EDT and be broadcast live as part of NBC's Kentucky Derby coverage.
"We are excited for Harry Connick, Jr. to perform our national anthem for the millions of Derby fans across the globe," said Kevin Flanery, President of Churchill Downs Racetrack. "He's one of the finest entertainers in the world and his performance will help make 2017 another great year at the Kentucky Derby."
Harry Connick, Jr. has exemplified excellence in every aspect of the entertainment world. He has received recognition with multiple Grammy and Emmy awards as well as Tony nominations for his live and recorded musical performances, his achievements on screens large and small, and his appearances on Broadway as both an actor and a composer. The debut season of his new daytime TV Show HARRY was recently recognized with five Emmy nominations, including a nomination for best host.
Harry Connick Jr. is the ninth artist to perform the national anthem since Churchill Downs began the tradition in 2009.  Past artists who performed the national anthem are Lady Antebellum (2016), Josh Groban (2015), Jo Dee Messina (2014), Martina McBride (2013), Mary J. Blige (2012), Jordin Sparks (2011), Rascal Flatts (2010) and LeeAnn Rimes (2009).
Olympic gold medalist Bode Miller has purchased an interest in Kendall Hansen's Kentucky Derby Presented by Yum! Brands (G1) hopeful Fast and Accurate, it was announced April 21.
Trained by Mike Maker and bred in Pennsylvania by John Penn, Fast and Accurate won the March 25 JACK Cincinnati Casino Spiral Stakes (G3) at Turfway Park to earn his spot in the Kentucky Derby. The colt is among the only U.S. crop sired by Hansen's homebred namesake, 2011 Eclipse champion 2-year-old male Hansen.
"Bode is a very intelligent man and a good horseman," said Hansen. "He learned a lot about physiology from his work on the U.S. Olympic Team, and he's relaying that knowledge to horse racing as well. He sees what we see up close (in Fast and Accurate), and he realizes we do actually have an outside chance to win, even though on paper it doesn't exactly look that way. I remember crossing out (2009 Kentucky Derby winner) Mine That Bird, who had no chance."
Fast and Accurate has won his last three races, stepping up in class each time. His record stands at three wins and one second in six starts.
"These 3-year-olds can improve by leaps and bounds, so I'm hoping we're one of the 'leaps and bounds' and other ones are tailing off," Hansen said.
"A couple of mutual friends got us together, because we've both been known to be somewhat eccentric and fun-loving," said Hansen of his partnership with Miller. "It's fun to be paired up with him. I'm looking forward to hanging out with him on Kentucky Derby day."
Immediately after the Spiral Stakes win, Skychai Racing also purchased a stake in Fast and Accurate. They have since sold a portion to frequent partner Sand Dollar Stable. The nom de course of Harvey Diamond and partners, Skychai Racing also bought a stake in Hansen after the colt's 13-1/4 length score in the 2011 Kentucky Cup Juvenile at Turfway, his third start and third win.

Miller also owns a share of Hansen's homebred colt En Hanse, another son from Hansen the sire's U.S. crop. That colt is 3-1-1 in nine starts, including a win in the WEBN Stakes at Turfway Park in February.
Kendall Hansen retains majority ownership of both colts.
DERBY STYLN!
VISIT OUR DERBY STYLN
 SPECIAL EDITION PAGE
↓
*******************
He is the four-time reigning champion jockey, is closing in on 100 Grade 1 stakes victories, and just two weeks ago was elected into Thoroughbred racing's Hall of Fame.
When it comes to the sport's Triple Crown races, however, Javier Castellano has not been nearly as successful. Castellano has just one win from 25 mounts in the Triple Crown series comprised of the Kentucky Derby, Preakness, and Belmont Stakes. The win came in the 2006 Preakness on Bernardini, a victory largely overshadowed by the breakdown of Kentucky Derby winner Barbaro early in the race.
Castellano is 0 or 10 each in the Kentucky Derby and Belmont Stakes. He has three seconds in the Belmont, including a nose loss to Creator last year aboard Destin.
In the Derby, Castellano has fared no better than a fourth-place finish aboard Normandy Invasion in 2013, a race in which he may have made a premature move.
On Saturday, Castellano will try to end his Derby drought when he rides Gunnevera in the 143rd Run for the Roses at Churchill Downs. Castellano won't be riding for either of his two main clients, Todd Pletcher or Chad Brown, both of whom have runners in the race.
Instead, Castellano will be riding for trainer Antonio Sano, who like Castellano is a native of Venezuela. The two never met in Venezuela. They met four years ago at Gulfstream Park when Sano began training in the U.S. Sano is making his Derby debut.
"He seemed to be a great guy, a good horseman," Castellano said. "I think he developed a good horse."
Castellano first rode Gunnevera last summer in the Saratoga Special, guiding him to a one-length victory in the 6 1/2-furlong race. Castellano did not ride Gunnevera when the horse finished fifth behind Classic Empire in the Breeders' Futurity at Keeneland. Castellano was back aboard him for the Delta Downs Jackpot, rallying him from last to first to win by 5 3/4 lengths.
In three starts this year, all at Gulfstream Park, Gunnevera has a win in the Fountain of Youth sandwiched between a second-place finish in the Holy Bull to Irish War Cry and a third in the Florida Derby to Always Dreaming, horses he will face again in the Kentucky Derby.
Gunnevera had some trouble in the Holy Bull. In the Florida Derby, he broke from the outside post in a 10-horse field. After dropping 15 lengths out of it, he finished third, 6 1/2 lengths behind Always Dreaming.
"In the Holy Bull, I was on the rail, they bothered me a little bit, I checked a little, but those things happen in the Derby, too," Castellano said. "You got to be lucky; right time, right place to win the race. I believe the Derby is the hardest race to win because you got to be lucky. You have to have the best horse, and you have to have a clean trip."
Castellano's best chance for Derby success came with his first mount in the race, Bellamy Road, in 2005. After winning the Wood Memorial by 17 1/2 lengths at Aqueduct, Bellamy Road went off as the 5-2 favorite in the Derby. Up close to a hot pace while chasing in fifth position, Bellamy Road was in contention turning for home but couldn't sustain his bid and faded to seventh, beaten 6 3/4 lengths by longshot winner Giacomo.
"I wouldn't have changed anything that day; unfortunately, he didn't fire," Castellano said. "I remember there was a lot of speed. It was like a record pace [of] 22, 45, 1:09 and change. I know there was plenty of speed. Turning for home, I was on the lead. I couldn't carry it to the wire."
Since then, only two of Castellano's nine Derby mounts have gone off at odds lower than 10-1. Gemologist finished 16th at 8-1 in 2012, and Normandy Invasion was 9-1 when he ran fourth in 2013.
"You work all year round to try and find the best 3-year-old to win those kinds of races, and for whatever reason, they're hard to get," Castellano said. "It's been very challenging."
Aside from the Derby, Castellano, 39, has met virtually every challenge. He has 94 Grade 1 stakes victories and 4,666 career wins. He has won the last four Eclipse Awards as North America's top jockey, and this summer he'll be inducted into the Hall of Fame.
"I didn't expect it to be this early," said Castellano, who acknowledged his wife, Abby, and their three children for their support during his career. "I think I can do something [more] in my career."
What he'd like to do this Saturday is win his first Kentucky Derby.
We'll be back for the Road to the Breeders' Cup!