FIT & FABULOUS!
So here we are, perfecting our social distancing skills while schools, sports and other forms of social engagement are on indefinite hold, by a dangerous virus named after a (regal) crown. The coronavirus is named because the center envelope is surrounded by small protein spikes called peplomers. These little protein spikes wreak havoc when they attach to lung tissue and hijack otherwise healthy tissue into building a potentially lethal coronavirus army of invaders.
Because the virus settles primarily with the respiratory tract – the nose, mouth and lungs – it is highly contagious when people sneeze, cough or exchange respiratory droplets with others. Despite its importance, social distancing has been a social disappointment for many weekend warriors, team sport athletes, fitness fanatics and sports fans who find camaraderie, biochemical joy from dopamine rushes or stress reduction through regular exercise and sport.
We are both sports scientists who study athlete health and safety. We're also proud exercise addicts who find the prospect of not exercising almost as disturbing as the prospect of the disease itself.
Here's how exercise affects the immune system in response to the flu and some practical tips on how much people should (and should not) exercise.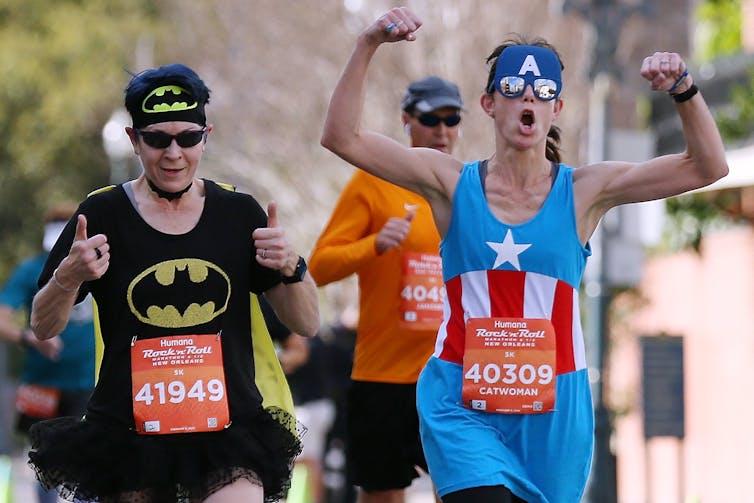 Runners race in the Humana Rock 'n' Roll 5K on February 08, 2020 in New Orleans. Getty Images for Rock 'n' Roll Marathon/Jonathan Bachman
Look for the 'just right' amount
Both too much and too little are bad while somewhere in the middle is just right. Scientists commonly refer to this statistical phenomenon as a "J-shaped" curve. Research has shown exercise can influence the body's immune system. Exercise immunity refers to both the systemic (whole body cellular response) and mucosal (mucous lining of the respiratory tract) response to an infectious agent, which follows this J-shaped curve.
A large study showed that mild to moderate exercise – performed about three times a week – reduced the risk of dying during the Hong Kong flu outbreak in 1998. The Hong Kong study was performed on 24,656 Chinese adults who died during this outbreak. This study showed that people who did no exercise at all or too much exercise – over five days of exercise per week – were at greatest risk of dying compared with people who exercised moderately.
Additionally, studies performed on mice demonstrated that regular exercise performed two to three months prior to an infection reduced illness severity and viral load in obese and non-obese mice.
Thus, limited animal and human data cautiously suggest that exercise up to three days per week, two to three months prior, better prepares the immune system to fight a viral infection.
What if we have not exercised regularly? Will restarting an exercise routine be good or bad? Limited data, also obtained from mice, suggests that moderate exercise for 20 to 30 minutes a day after being infected with the influenza virus improves the chances of surviving. In fact, 82% of the mice who exercised 20-30 minutes a day during the incubation period, or the time between getting infected with flu and showing symptoms, survived. In contrast, only 43% of the sedentary mice and 30% of the mice who performed strenuous exercise – or 2.5 hours of exercise a day – survived.
Therefore, at least in laboratory mice, mild to moderate exercise may also be protective after we get infected with the flu virus, whereas a little exercise is good while no exercise – or even too much exercise – is bad.
For those who are "committed exercisers," how much exercise is probably too much during a flu pandemic? It is clear that both too much exercise and exercising while sick increases the risk of medical complications and dying.
We conducted studies on both collegiate football players and cross-country runners, which showed a decrease in secretory immunoglobulin A, or "sIgA" when athletes competed and trained hard. SIgA is an antibody protein used by the immune system to neutralize pathogens, including viruses.
SIgA is also closely associated with upper respiratory tract infections (URTI). When sIgA levels go down, URTI's usually go up. We saw this relationship in football players, whereas the players showed the most URTI symptoms when their sIgA levels were lowest. This indirectly suggests that over-exercise without adequate recovery may make our body more vulnerable to attack, especially by respiratory viruses. So, when it comes to immunity, our studies show that more exercise is not necessarily better.
How much exercise may be just right?
Here are some guidelines based on just the right amount – for most people.
Do perform mild to moderate exercise (20-45 minutes), up to three times per week.
Strive to maintain (not gain) strength or fitness during the quarantine period.
Do avoid physical contact during exercise, such as playing team sports, that is likely to expose you to mucosal fluids or hand-to-face contact.
Wash and disinfect equipment after use.
If you use a gym, find one that is adequately ventilated and exercise away from others to avoid droplets.
Remain engaged with teammates through social media, rather than social gatherings or contact.
Eat and sleep well to boost your immune system.
Remain optimistic that this too shall pass.
How much exercise may be too risky?
Here are some things not to do:
Do not exercise past exhaustion, which increases the risk of infection. An example would include marathon running, which increases the risk of illness from 2.2% to 13% after the race.
Do not exercise if you have any flu-like symptoms.
Do not exercise more than five days a week.
Do not exercise in crowded, enclosed spaces.
Do not share drinks or eating utensils.
Do not overdrink fluids, especially when sick, to try and "flush out" the toxins or prevent dehydration. It is not true that you can "flush out" toxins.
The J-shaped ("just right") curve suggests that exercise, like most things, is best in moderation. Stay safe out there and be creative – our game is not over, just temporarily suspended.
[Get facts about coronavirus and the latest research. Sign up for our newsletter.]
---
How to Burn Way More Calories Walking
Summer is finally here,… and there's no better time to get outside and enjoy the beautiful outdoors!  So why not add a little walking to your fitness program.  While walking at a relaxed pace has major health benefits — and for sedentary people, it can be a great start to an exercise program — walking isn't necessarily a calorie-torching activity. But if you're looking to burn extra calories on foot, consider amping up your activity with these five tricks:
1. TACKLE THE HILLS
Use your surrounding environment to break a sweat on a walk. Seek out the hills instead of avoiding them. If you don't live in a hilly place, even doing hill repeats on the same hill gets your heart pumping.
2. HIT THE TRAILS
Trails require more coordination and all-body stability to navigate roots and rocks than a plain paved road or sidewalk. Also, according to recent studies, the bonus time spent in nature versus on city streets will make you happier and more energized in the long run.
3. ADD WEIGHT
Whether it's carrying your groceries home from the market or wearing a weighted vest on a power walk, taking on an extra load burns extra calories. Just make sure you're carrying things evenly — switch hands if you're carrying a bag, or invest in a quality backpack.
---
READ MORE >DOES WALKING WITH WEIGHTS BOOST WEIGHT LOSS?
---
4. ADD INTERVALS
You don't need to start running all the time — but a few fartlek intervals will boost your heart rate and metabolism. As you walk around the neighborhood, simply pick up the pace and do a jog or hard run for a half block or to the next stop sign. Even 10 seconds of fast-paced running done a few times can have major benefits, and eventually, you might find that you want to add even more running to your routine.
---
READ MORE >HOW HIGH-INTENSITY INTERVAL TRAINING CAN START WITH WALKING
---
5. SNEAK IN BODYWEIGHT EXERCISES
Take advantage of those parks with fitness loops that include stations for different activities like pullups and tricep dips. If you don't have one of those nearby, you can DIY it by stopping every few minutes and holding a plank for a few seconds, doing a few air squats or walking lunges.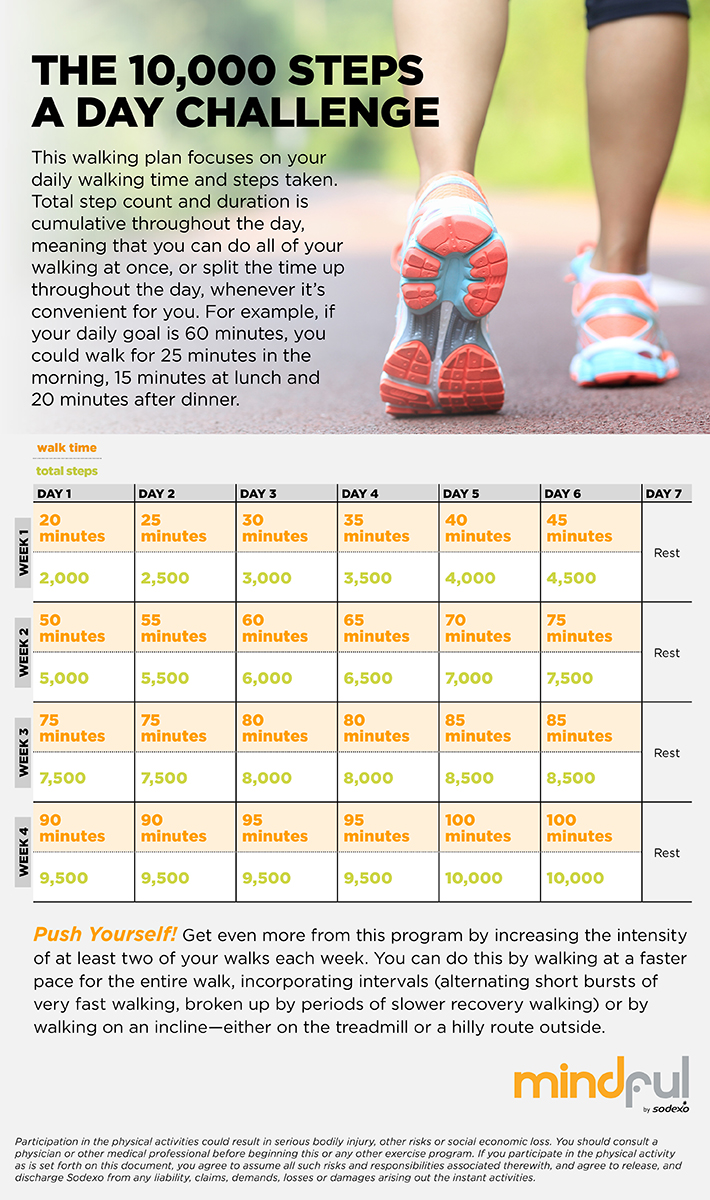 Walk 10,000 Steps a Day
Getting healthier means moving more, and walking is one of the easiest ways to do that. This walking challenge will have you taking 10,000 steps a day—the magic number for optimal health—in just four weeks.
When it comes to being active, most Americans fall short of doing what it takes to be healthy. Case in point: The average adult logs just 5,117 steps per day—well under the 10,000 daily steps many health professionals recommend. Walking this amount has been proven to boost heart and brain health and help maintain a healthy weight.
So how do you reach that goal? Try this simple plan, designed by Nancy Fudacz, master performance training coach at East Bank Club in Chicago, and Gretchen Collins, East Bank's director of fitness. Each week will challenge you to hit a step goal, and in four short weeks you'll be logging 10,000 steps a day—and be on the path to better health. While simply following the plan will get you very close to these numbers, using a pedometer, or a fitness tracker, like Fitbit, can give you a more accurate count and help keep you motivated. If you have a Fitbit, you can even sync your steps with this challenge (sign in with your Fitbit username and password on the right).
Over the next four weeks, you'll gradually increase the number of steps you take every day simply by walking more. The plan starts with getting you to 4,500 steps daily by the end of the first week and then builds each week until the end of week four when you're hitting the 10K mark.
Another bonus…walking 10,000 steps helps you burn about 5oo calories!
---
Stand Up for Flat Abs Women's Health Magazine
=
9 MINUTE AB WORKOUT
=
---
Benefit #1: Cycling Can Reduce Anxiety
Benefits of Cycling
One of the best benefits that you can get from regular aerobic exercise such as cycling is that it can go a very long way in helping to reduce the effects of anxiety. Social anxiety, panic attacks, and other anxiety disorders can have a crippling effect on all aspects of your life and leave you secluded, make it hard to keep jobs and relationships, and just make life really hard.
Several studies show that regular exercise such as cycling can actually reduce the occurrence and severity of anxiety attacks. It is also shown that the more intense the exercise is, the more of a positive effect it has in terms of reducing the effects of anxiety.
Benefit #2: Better Self-Esteem
Another thing that cycling can do for you is to increase your self-esteem and sense of well-being. Simply put, cycling makes you lose weight, build muscle and gives you a sense of accomplishment from completing a several kilometer long cycling trip. The fact of the matter is that people have a greater sense of subjective mood and well-being when they exercise than when they don't.
Studies show that cycling makes people feel better about themselves and increases their positive self-perception. Ultimately, after a long cycling trip, you can look in the mirror and really feel good about what you have accomplished and how you are transforming your body.
There are also several studies which show that cycling, now we're talking about biking outdoors, not taking an indoor spinning class, is good for your mood. It is shown that exercising outdoors, such as cycling, makes you feel more energized, revitalized, and happier than exercising indoors.
Benefit #3: Reduction Of Stress & Depression
The next thing that cycling is good for in terms of aerobic exercise is that it can go a long way in reducing both stress and depression. It is actually shown that regular exercise such as cycling can in fact reduce the chance of developing clinical depression in the long run, which is also true for several other depressive disorders.
Studies also show that exercise such as a few minutes of biking per day can also work to combat the effects of depression for people who already suffer from it. The same can be said for people who suffer from too much stress. Of course, stress is not good because it can lead to things like heart attacks, bad sleeping patterns, and other unwanted health issues.
The main reason as to why cycling can fight off depression and stress is because of the chemicals produced in your brain when you go through aerobic activity. Cycling for a prolonged period of time on a regular basis is shown to increase the production of serotonin and other feel happy chemicals. These chemicals which are released when you exercise are shown to relieve tension, elevate moods, and also fix bad sleeping patterns.
In essence, cycling can directly make you feel a sense of happiness, elation, and make you feel all around better. This is a great way to fight off things like depression without having to resort to prescription medications, drugs which often have terrible side effects.
Benefit #4: Relief Of Pain
Benefits of Cycling
Another great thing that cycling can do for you is to reduce your pain, or at least your perception of pain. This has to do with some other chemicals that get released in your brain when you go through aerobic exercise. This time we are talking about endocannabinoids.
Endocannabinoids are naturally produced chemicals and are in fact the same components as can be found in marijuana, and of course marijuana is known to be a great way to relieve pain. Therefore cycling is a great way to get the pain relief effects of THC and marijuana without actually having to participate in the use of illicit substances. Not only that, but cycling is also shown to be a releasing exercise, something which naturally combats all sorts of pain.
Benefit #5: It's Good For The Environment & Your Wallet
Something else that we really like about cycling on a regular basis, especially if you use it for your main mode of transportation, is that it is both eco-friendly as well as relatively inexpensive. Just think about how much money you spend on gas for your car or on public transportation to go to work, go shopping, and go see friends.
Unlike an automobile, a bicycle is a one-time buy, doesn't require hefty insurance payments, and doesn't need you to pay for gas. Moreover, cycling is an eco-friendly activity, and unlike driving or even taking public transport, it doesn't produce pollution or greenhouse gasses which kill the planet that you live in. If you want to save your wallet and the planet you live on, cycling definitely makes for a very good choice.
Benefit #6: Battling The Effects Of Arthritis
Another big benefit that comes along with cycling on a regular basis has to do with arthritis. People who have arthritis in their ankles, knees and other parts of the legs of course suffer from a lot of pain. People who have arthritis often become immobile and don't exercise much and it's because of that extreme pain that they suffer from.
However against popular knowledge, not exercising is perhaps one of the worst things that you can do if you suffer from arthritis.
The more you don't move around, the more arthritis takes hold. Cycling on a regular basis is shown to keep the hips, knees, and ankles mobile and flexible. It is shown to reduce the pain caused by arthritis as well as the general immobility which sufferers of arthritis have.
Benefit #7: Reduce The Risk Of Cancer
Benefits of Cycling
Something else which is shown to be directly affected by cycling is the occurrence of cancer. It is shown that exercise such as biking directly reduces the risks of developing certain types of cancer as you age. Of course, cancer is a severely debilitating disease which is often fatal both in the long and short run.
Think about it, something as simple as cycling can greatly increase your lifespan and keep one of the most deadly diseases in history at bay. In a controlled study group people who cycled had a much lower chance of developing certain types of cancer than people that did not engage in regular exercise such as biking.
Benefit #8: Cardiovascular & Respiratory Health
Another thing that is very beneficial when it comes to biking is to increase your cardiovascular health. Your heart is a muscle and the more you train it the healthier and more efficient it becomes. It is shown that regular aerobic exercise can go a very long way in increasing the health of your heart.
This means that your heart is stronger and can pump blood around your body much more efficiently, thus reducing your resting heart rate and also reducing blood pressure. Cycling also helps to reduce arterial diseases, heart diseases, and the occurrence of things such as heart attacks.
Not only does cycling increase your cardio health, but it also increases your physical performance. This is because your muscles need oxygen and blood to function properly, especially when you are performing vigorous physical exercise and the more of these things your muscles get, the better and longer they can function.
A healthier heart means that your heart doesn't need to work as hard to deliver the necessary oxygen to your muscles, and it can do it much quicker and more efficiently. In the long run, this means that cycling provides for a stronger heart, something which will ultimately increase your physical performance.
Cycling also helps to increase your respiratory health, once again because your lungs are muscles, and the more you train them, the stronger they get. Having stronger lungs is essential for processing and delivering oxygen to your muscles, and as we mentioned that is very important in terms of physical performance.
This is perhaps one of the biggest benefits because the combination of increased heart and lung health both serve to increase your physical endurance. The simple fact is that your heart and lungs are essential for keeping your muscles going, and cycling is a great way to achieve this efficiency and longevity.
Benefit #9: Increased Muscle Strength
Benefits of Cycling
Of course, cycling involves using your leg muscles to a large degree and whenever you use muscles for a prolonged period of time you train them to be bigger and better. Cycling is shown to greatly increase the strength and appearance of your leg muscles, things which nobody is going to turn down. Biking means constantly using your legs and that obviously has some big benefits.
Moderate cycling will do good for your leg muscles, but if you really want to build those big legs you can always do a lot of uphill cycling to rev up the difficulty level. Cycling is also shown to increase your muscle activation and usage, which means that more of your muscles are used to accomplish a physical activity, thus making your legs much more efficient at their job. What is even better is that cycling does not only target your legs because you also engage both your arms and your core to stay balanced and upright on the bicycle.
Benefit #10: It's Something That Everyone Can Do
One of our favorite parts about cycling is that it's a type of exercise that everyone can do. Men and woman, young and old, healthy or not, everyone can engage in some good old biking and reap the benefits from it. You can get a stationary bike and do it in front of the TV, you can take a spinning class at the gym, you can bike in your neighborhood, or you can go for a long bike trip with a few friends. Cycling is very versatile and that is definitely a benefit because it never gets boring and it is something that you can do with the whole family.
Benefit #11: Weight Loss
The final benefit of cycling on our list has to do with that muffin top that you may or may not be sporting at the moment. The fact of the matter is that an aerobic activity like cycling goes a very long way in helping you lose weight and maintain a healthy body weight. Of course, cycling itself does burn a lot of calories as well as body fat, but that is not all. Cycling can have you burn as much as 700 calories for every half hour you bike!
Cycling also helps to increase your metabolism and your post-exercise oxygen consumption. In other words, cycling can make you burn more calories for longer even after you finish exercising for the day. A higher metabolism means that you will burn more calories, have less food that you eat turn into body fat, and also burn more of the fat that is already on your body. If you want to burn fat quickly, you should really consider cycling as your main source of exercise.
Benefits of Cycling: Conclusion
Cycling is an all-around beneficial physical activity that will have you living a very long and prosperous life. Lung and heart health, weight loss, the battling of diseases like cancer, and various mental benefits, plus so much more, are all things that cycling can do for you. The simple fact of the matter is that the benefits of cycling will make you a truly healthy person. If you don't have a bike yet, we would highly recommend getting one.
If you have any questions or comments about cycling please feel free to contact us at
↑
Do Compression Tights Really work?
Can Compression Gear Prevent Soreness?
New science shows that tights might be the answer to your post-exercise aches
The revival of men in spandex at your local gym and CrossFit box isn't some weird tribute to 80s exercise videos. New research finds that tights can help you avoid dreaded post-workout pains.
"When compression garments are worn during and after heavy exercise, they appear to reduce muscle soreness," says Jessica Hill, M.S.c., a U.K.-based exercise scientist who authored a 2013 review on the topic, published in the British Journal of Sports Medicine.
It concluded that people who wear compression garments after their exercise sessions experience less soreness and faster muscle recovery than people who rock a more traditional gym outfit, like a t-shirt and shorts.
What gives?
When you work a muscle group hard, it can become inflamed. "When we experience an inflammatory response we get an increase in fluid and white blood cells to the affected area. This leads to swelling and increases in pressure, and therefore pain," says Hill.
Compression garments "work" by constricting your muscles. That reduces the amount of fluid buildup, decreasing the swelling and pressure.
"Compression garments also may increase blood flow to the muscles, which removes creatine kinase, an enzyme in your muscles that leaks out after muscle damage and can cause the ache," says Hill.
The tight gear isn't salvation from soreness, though—it only helps
Spanish scientists had a group of soccer players wear a compression sleeve on one leg, and nothing on the other leg. Then the players ran downhill for 40 minutes (an activity commonly used to elicit soreness). They showed 27% fewer markers of soreness in the compressed leg compared to the free leg.
And a U.K. study found that marathoners who wore compression tights in the 24-hours after crossing the finish line reported feeling less sore, but not ache free.
Bottom line: think of compression gear as another weapon in your arsenal against post-exercise aches.
Looking for a good pair of compression pants, shorts, or a shirt? Check out those from 2XU. Hill uses that brand in her research and says, "People seem to like wearing them. I get reports that they 'feel nice.'" The aforementioned study on marathoners also used 2XU gear. (2XU Men's Recovery Compression Tights; $160).
But be warned: The same reason that compression gear "feels nice"—mainly, the clothing's nut-caressing properties—is also why it may not look so nice to others.
"It gives off a lot of information, if you know what I mean. That can make other people uncomfortable," says MH Fashion Editor Brian Boye.
His advice is to treat tight gear like underwear. "Wear it as a base layer, under traditional gym clothing," he says. And then top it with some of The Best New Gym Clothes for Men.
ORDER HERE
 JUST TYPE IN 2XU IN SEARCH BAR…
BEST PRICES!

↓
ORDER ↑ HERE
TYPE IN CW-X TIGHTS IN SEARCH BAR
COFFEEBREAKWITHFRIENDS HAS TRIED BOTH THE CW-X AND THE 2X-U AND FOUND BOTH OF THESE COMPRESSION TIGHTS TO WORK AMAZINGLY…ESPECIALLY FOR THOSE OF YOU WITH KNEE OR HIP PROBLEMS!
If you're trying to lose weight, you probably already know that you need to burn more calories than you take in to meet your goals. Likely that thought conjures images of sweaty cardio classes and breathless outdoor training movie montages. But while it's definitely true that cardio workouts can help you get the calorie deficit you need (in addition to sticking to a clean, healthy diet), strength training is what's really going to give your weight-loss goals that extra boost.
Here's the thing, while strength training may not give you the instant heart-pounding, sweat-dripping satisfaction of, say, Zumba or an indoor cycling class, in the long run, building lean muscle definitely works in favor of your weight-loss goals. The short version? Having more muscle means your body burns more calories at rest. The long version? Read on.
Strength training helps build lean muscle.
"Aerobic exercise is actually the most effective in losing weight, however, it's not the best at burning fat and increasing lean mass (muscle)," says Noam Tamir, C.S.C.S., founder of TS Fitness. When you're losing weight strictly through cardio, it's normal to lose muscle and fat. And if resistance training isn't a part of your plan to counteract this, you could actually be slowing down your metabolism by losing lean muscle mass, rather than revving it up (which can lead to weight-loss plateaus).
Strength training is better at much building muscle than a cardio-only routine, explains Michaela Devries-Aboud, Ph.D., an exercise physiologist at McMaster University. "When you lift weights, you overload the muscle and it works to adapt to be able to lift more weight. The way the muscle adapts is by increasing something called myofibrillar size (the contractile units of the muscle)," she explains. Resistance training stimulates this growth, which leads to an increase in muscle mass over time. "And while aerobic exercise can also [stimulate this process], this increase is not as great as it is with resistance exercise."
More muscle = a higher BMR (base metabolic rate).
Having more lean muscle means your body will burn more calories at rest. Having more muscle increases your everyday base metabolic rate, or BMR (AKA, how many calories your body would burn just to keep itself running if you did nothing but binge on Netflix all day). "Muscle mass is a more metabolically expensive tissue," explains Devries-Aboud. "The metabolic demand of a pound of muscle is greater than it is for a pound of fat, so just sitting around, the amount of energy needed to maintain a pound of muscle per day is greater than that of a pound of fat. The more muscle you have the more calories you burn throughout the day."
The weather is colder…schedules crazy busy…just no time to get a good work out in???
Try to steal 30 minutes out of your day to do a little yoga…
Morning Yoga For Weight Loss –
20 Minute Workout Fat Burning Yoga Meltdown
Beginner & Intermediate
=
Another quick routine for a good workout…
*************
(My Favorite!!!   On lakes or oceans…)
↓
SUP Cardio Workout –
Great Stand Up Paddling Workout
v=
SUP tips: Common beginner mistakes
=
The Golden Rules of Stand Up Paddling
Top 6 Kettlebell Core Exercises
= ]
(FOR ORDERING INFORMATION CONTACT OUR PERSONAL STYLING TEAM AT:
PROTECT YOU BEAUTIFUL SKIN
WITH THESE GREAT RASHGAURD SWIM TEES!
PURCHASE   ↑    HERE
Best Fitness Trackers to Get You Up Off the Couch
The Smartwatch Hasn't Killed the Fitness Band Yet:
A Basic Device Is Still the Most Practical Option
TO PURCHASE YOUR FITNESS TRACKER
CLICK  ↓  HERE
=
By JOANNA STERN
On Wednesdays, I walk an average of 9,000 steps, burn more than 2,000 calories, and eat and sleep really well. On Sundays, I barely hit the 3,000-step mark…and I eat a bagel with bacon, egg and cheese.
Welcome to life with a fitness tracker. These wristbands strive to make us better people—or at least healthier, more active ones—by keeping track of our steps, our calories burned and increasingly much more.
But what's even harder than getting up off the couch and putting down the breakfast sandwich is figuring out which device to put on your body—if one at all.
Fitness trackers are going through an existential crisis. There are now smartwatches which combine far more capabilities with basic health features. Then there's the 40 percent of fitness-tracker buyers who have ditched them, according to The NPD Group, a market research firm. I even have anecdotal evidence to back that up. The only thing my mom's FitBit tracks now is dust in her desk drawer.
So why read any further? Because, if you let them, fitness bands can improve your life. They've gotten me to take the stairs and subway more, and made me aware that it takes longer to burn off my morning latte than I thought. And when I made it my mission to lose weight earlier this year, they gave me a means to monitor my progress.
I tested more than 20 of the latest fitness bands to find out which one you should make room for on your arm or pants. The good news is, trying them out has never been easier or more affordable.
$50 to $100 for the Basics
Here's the biggest secret of buying a fitness tracker right now: You don't need to spend more than $50 on one that does the basics, counting steps and estimating calories burned. In fact, that's exactly what I suggest you do if you are a first-time buyer.
You won't get a screen on many of the options in this range—or at least not a nice screen—but they all sync with your phone via Bluetooth so you can check your stats in their corresponding apps.
Both Misfit and Jawbone sell $50 plastic trackers that you can clip to your pants or wear on a wrist. After wearing them side by side for two weeks, I prefer the Jawbone Up Move. It is a bit chunkier and harder to put in its small clip than the Misfit Flash, but it consistently synced the data to my phone faster.
Besides, Jawbone has the nicest Android and iOS apps of the whole lot. Not only does it present my steps and sleep data in a beautiful layout, but it translates that data into action items. It suggests going to bed earlier and trying new ways to hit my step goal before the day is up. I also really like its food-logging feature, at least when I remember to manually input my meals and snacks.
Related: Is There Something Wrong With My Heart?
A new crop of fitness bands include heart-rate monitors, but the readings don't always tell truth. Read how the hottest trend in tech sent me to a cardiologist.
A new crop of fitness bands include heart-rate monitors, but the readings don't always tell truth.
But while keeping a tracker off your wrist may be appealing, my problem with the Move and the Flash is that I lose them constantly. Seriously, they seem oddly attracted to my washing machine (I haven't actually washed either one yet). The Move isn't waterproof like the Flash, but it will survive a heavy downpour or sweaty workout.
You could wear the Move on your wrist, but the rubber enclosure looks as if you've stolen an 8-year-old's jewelry. Instead, I'd suggest the wrist-worn $80 Jawbone Up24, which vibrates to nudge you when you've been sitting too long.
 PURCHASE ON OUR SHOP TILL YA DROP PAGE
If a screen is what you want, the $80 Garmin VivoFit's is always on. The band is dead simple to use and has a year-long battery life. However, the digital numbers, reminiscent of those old Casio watches, are an eyesore.
$100 to $150 for Better Design
If a sleeker band and a better screen are important to you, you'll want to venture into the $100-to-$150 range, but you won't get better data. You often get the same exact apps and features here as you get in that lower range.
Of the many I tested—including the Nike FuelBand SE, the Withings Pulse, the LG LifeBand and the Samsung Gear Fit—the one that worked best was FitBit's new $130 Charge.
The Charge's plastic band is one of the easiest to put on by yourself, the battery lasts all week and the small OLED display displays all the vitals—time, steps, floors climbed, calories burned, distance traveled—right on your wrist. If your phone is paired, it can also display caller ID.
And FitBit's app is one of the simplest to navigate. However, with FitBit's lead in this market and all the data it has amassed about me over the years, the app should be doing more to interpret my information and motivate me, the way Jawbone's does.
Some users have complained that the Charge's band has left them with a rash. The company says the instances are very limited and in no way similar to the FitBit Force, which was recalled last year for skin irritations. In three weeks of wear, I have had no such reaction.
$150 to $200 for Fitness Bands on Steroids
I have two sneaking suspicions about why some people have abandoned their fitness bands. One is that they want more or better data, especially when lifting weights or working out. The other is that they want to be told what actually to do with that data.
That's where fitness bands are headed. Instead of basic activity monitoring, a new generation of pumped-up bands have sensors that track your heart rate, location, even your perspiration. And they're beginning to have the smarts to make sense of all that and give you better health and fitness advice.
The $200 Basis Peak and the $200 Microsoft Band are two early examples of that future. But I can't recommend either of them.

The Basis automatically detects when you are exercising, can go swimming with you and lasts four days on a charge. But it had a hard time reading my heart rate, and when it did the results were erratic. The device's interface isn't all that intuitive, and neither is the app's.
I loved how the Microsoft Band can count reps in a weight-lifting session and heart-rate patterns during my spinning class, where basic trackers are useless. But the device—which looks like a prison tracker—is uncomfortable to wear, has a battery that lasts barely two days and gave me similarly inconsistent heart-rate readings. (Jawbone's $180 Up3 and FitBit's $150 Charge HR, which both track heart rate, won't be available until early 2015.)
If you want to track your heart rate right now while working out, don't use a wrist band. Chest straps that pair with fitness bands, like the $170 Polar Loop and H7 monitor, are far more accurate, as I found when I visited my cardiologist and compared those fitness trackers with an EKG reading.
Other bands in this price range blend fitness-tracking with smartwatch functionality, including email and text message alerts. The problem is that companies like Sony and LG don't have the fitness and health heritage to provide as much useful data.

Of them all, I enjoyed the $200 Garmin Vivosmart most. You can glance at your email subject lines and text messages, and it even pairs with Garmin's heart-rate chest strap for accurate beats per minute when you're at the gym.
Fitness bands are shaping up even faster than we are, and getting cheaper, too. Technology that was $150 a year ago is just $50 now. It won't be long before it is $25. This holiday season, a device like the Up Move is in the sweet spot.
For now, though, steer clear of more ambitious fitness bands like those from Microsoft and Basis. In the next year, they're going to get better, while similarly priced smartwatches will give us even more health-tracking options.
OUR FAVORITE…THE FITBIT CHARGE!
PURCHASE    ↓    HERE
PURCHASE    ↑     HERE
TO PURCHASE  
CLICK   ↓  HERE
ARE YOU WEARING THE PROPER SHOE FOR YOUR WORKOUT?
CHECK OUT OUR FITNESS SHOE GUIDE!
SUPINATOR
NEUTRALS
OVER-PRONATOR
LET OUR PERSONAL SHOPPERS HELP YOU FIND THAT PERFECT ATHLETIC SHOE!
shop Nordstroms for great sales on Athletic Shoes!
↓
*******
WORKOUT WEAR TO LIVE IN!
ORDER ↓ HERE

10 BEST EXERCISES FOR WEIGHT LOSS!
With summer just around the corner…
it's soon going to be time to shed off those extra safe layers of clothes
 and take out those body contious outfits that have been hiding all winter!
It's also the perfect time to start heading outdoors to get  back into shape!
Yes, there's no getting around the fact that in order to lose weight safely and permanently,
you need to eat healthy food and get plenty of exercise.
Exercising burns calories and builds muscle, which is essential for increasing
your metabolism so that you can burn even more calories and lose more weight.
So dust off those workout clothes and pick one of these nine best exercises
for weight loss to get started today on your path to a slimmer, healthier you.
(We've also included indoor activities for those of you who prefer a gym workout!
 But an outdoor workout not only benifits your body, but also your mind!)

1. Walking
Walking is an ideal exercise for weight loss: It doesn't require any equipment, other than a decent pair of walking shoes, and you don't need a gym membership to do it. It's a low-impact exercise, which means it won't blow out your knees or cause other stress injuries that can leave you on the sidelines for weeks or even months. For those with certain health issues, including obesity and heart disease, walking is an effective, low-intensity weight-loss activity that can lead to better overall health, as well as better mental wellbeing. Depending on how much you weigh, walking at a pace of four miles per hour will burn between 5 and 8 calories every minute, or between 225 and 360 calories for a 45-minute walk. At this pace, walking 45 minutes a day most days, you can lose up to a pound a week without changing any other habits. So put on your walking shoes, turn on your iPod and go for a brisk stroll through the neighborhood. If you live close to where you work or shop, make walking your primary mode of transportation most days, and watch the pounds melt away. When the weather is bad, take to the local track or indoor mall, or hop on the treadmill.


2. Kettlebell
Kettlebells are cast iron balls fitted with a single handle. Unlike traditional handheld weights, the weight of the kettlebell isn't evenly distributed, which means that your body has to work to stabilize you and counterbalance the weight of the ball. Kettlebells provide for a hard-core workout that not only burns up to 400 calories in a mere 20 minutes, but also strengthens your core, improves balance and posture and targets all of the major muscle groups, as well as the stabilizing muscles. Because kettlebell exercises involve the whole body, a kettlebell workout will rev up your metabolism to help your body burn fat faster, and it'll get your heart pumping so that you get an aerobic workout as well. In fact, 20-minute kettlebell workout is similar to a six-mile run in terms of cardiovascular benefits and calories burned. However, working successfully with kettlebells requires proper form to avoid injury and get the most benefit out of your workout. If you're new to kettlebells, taking a class at your local gym will provide you with initial instruction about proper form and the safety guidelines you should follow when exercising with these heavy weights.


3. Swimming
Vigorous swimming can burn anywhere from 400 to 700 calories an hour. All types of swimming are effective for helping you shed pounds, from a front crawl to a breast stroke or even the dog paddle. Swimming is a highly effective exercise for weight loss and toning. It's one of the lowest-impact exercises out there, and it strengthens, tones and conditions your whole body. It's particularly ideal for women in their last trimester of pregnancy and individuals who battle with arthritis, obesity, and musculoskeletal conditions. It's also great for those who suffer from exercise-induced asthma, because the warm, moist air around the water helps keep the airways clear. Many athletes use the pool as a cross-training tool, as well as to stay fit while rehabilitating an injury. When you're neck-deep in water, your body is only bearing ten percent of its weight, and yet the water provides 12 times the resistance of air, making it ideal for strengthening and toning your muscles. Swimming engages all of the major muscle groups, from your abdominals and back muscles to your arms, legs, hips and glutes. It effectively compliments other exercises, like running and walking, or it can be your sole form of fitness. Don't know how to swim? Not a problem. If you can propel yourself through the water from one end of the pool to the other, you can swim well enough to lose weight doing it.

4. Cycling
Bicycling is another low-impact, high-rewards activity for losing weight. Cycling can burn anywhere from 372 to over 1,100 calories per hour, depending on your weight, your speed and the terrain you're biking across. Unlike running, cycling is easy on the joints, and even the most out-of-shape beginner can hop on a bicycle and ride several miles without feeling like they've just been through the wringer. Outdoor cycling is best, because the varied terrain enables you to get a well-rounded workout that includes strengthening your lower body and getting a good cardiovascular workout. If you live within biking distance of your job, cycling to work can stimulate endorphins and boost your metabolism for the day, as well as save you money on gas. If outdoor cycling is difficult or dangerous in your area, consider spinning. Offered at most gyms, this group cycling activity is one of the lowest-impact classes offered, and yet it's one of the most effective for burning calories and revving up your metabolism. Even seasoned runners or bikers will likely find themselves challenged by the spinning instructor. An hour-long spinning class covers about 20 miles and challenges participants to reach speeds that they may find impossible when riding an actual bike.
↑
CLICK HERE
SPINNING WORKOUT – INDOOR WORKOUT

5. Elliptical Trainer
The elliptical trainer at home or at the gym enables you to get a low-impact, full body workout. Easier on the joints than a treadmill, the elliptical trainer also has movable handles that enable you to get a good upper-body workout in addition to working your lower body. Elliptical machines let you choose the intensity level, and by raising and lowering the ramp and going backwards, you can target different muscle groups in your legs, both front and back. The average person using an elliptical trainer can burn about 600 calories per hour. The elliptical trainer mimics the action of running while eliminating impact, saving knees and other joints from wear. For those who suffer from arthritis, musculoskeletal conditions and obesity, the elliptical trainer is a great way to exercise without risking impact injuries. When you're using the elliptical trainer, hold on to the movable handles rather than the static ones to increase the number of calories you burn and to help tone your arms Don't rely on the calorie counters on elliptical machines to give you an accurate readout of calories burned. Instead, maximize your workout by striving to keep your heart rate at 85 percent and upping the resistance when it feels too easy.

6. Running
If you're one of the many people who love to run, you're in luck. Running burns about 600 calories per hour, helps build strong bones and connective tissue and gets your heart pumping at a healthy rate to help prevent heart disease, stroke and certain cancers. The only equipment running requires is a good pair of shoes to protect your joints and, if it helps you keep the pace and maintain motivation, an iPod with your favorite tunes. Interval training can bump up the calories you burn on your daily run. Also called speed work, interval training involves short spurts, usually between 30 seconds and two minutes, of running at top speed. Intervals burn a large number of calories in a short amount of time, improve your resting metabolism to help you burn more calories during the day, and increase your muscle mass. Experts now recommend that you don't stretch before you run. Instead, warm up by marching in place, bringing your knees up high, or walking for five minutes before beginning your run. Because running is a high-impact exercise that can damage your joints, it's always best to have a professional fit you with the right running shoes, based on your gait.

7. Tennis
A good game of tennis can burn up to 600 calories in an hour. If you're the type who prefers to exercise with a partner, tennis is an ideal way to get active. It's also perfect for those who don't particularly like to exercise, but who love a good competition. You don't have to be a great tennis player to lose weight doing it. After all, running after the balls is still a form of exercise. The nature of tennis makes it a great whole-body workout, and playing it can help you improve your flexibility, balance and posture, as well as let off some steam to reduce stress. Throughout the game, especially every time you hit the ball, your arm, abdominal and leg muscles are engaged, building strength and burning calories. But that's not all that's engaged. Your brain gets a good workout every time you play tennis, from thinking quickly and creatively to planning ahead. Games like tennis boost the brain's function to improve memory and the ability to learn new things. It also helps increase your peak bone mass; in fact, the National Institute of Health lists tennis as one of the activities that promotes bone health.

8. High intensity interval training
This is one of the most effective weight loss exercise options available. You only need to engage in this form of exercise for about 20 minutes, three times a week, to get incredible benefits that include burning a large number of calories and ramping up your metabolism in the wake of the afterburn. High intensity interval workouts can be done with many forms of exercise, and consist of short but intense bursts of activity followed by a lower-intensity period or a period of complete rest. Those who are new to exercising shouldn't perform interval training until they've been exercising regularly for a couple of months. A standard interval workout for biking, swimming, running, lifting weights or even walking is 20 minutes long, but burns far more calories than 20 minutes of steady exercise. Start out by warming up for five minutes. For the sixth minute, push yourself as hard and fast as you can. The seventh minute is all about catching your breath. Repeat the fast/slow cycle (minus the warm up) five times, and cool down for three minutes. High intensity interval training, or HIIT, offers amazing benefits. Not only will you progress much faster to your desired fitness level, you will also improve your aerobic capacity. In fact, after only two weeks of HIIT, your aerobic capacity will be stronger than if you had completed eight weeks of steady-state endurance exercise, such as running.


9. CrossFit
CrossFit, like high intensity training, is only suitable for individuals who have been exercising on a somewhat regular basis for a couple of months. Originally designed to train first responders and Special Forces, CrossFit is a workout regimen that involves weight lifting, endurance exercises, plyometrics, strength and speed training and kettlebell exercise routines, among other activities. One thing you won't lose with CrossFit is interest. Unlike other routines that involve doing one exercise for a specified amount of time, CrossFit incorporates many activities into one intense, fat-burning workout. It's designed to target all of the major components of physical fitness, including endurance, flexibility, speed, power and cardiorespiratory fitness. No two days are alike when you're doing CrossFit. An example of a CrossFit routine is five repetitions of 20 pull-ups, 30 push-ups, 40 sit-ups and 50 squats, all performed one after the other, with a three-minute rest between repetitions. While definitely not for the faint-of-heart, CrossFit routines are highly effective at burning calories and fat, improving physical stamina and endurance, and increasing metabolism. To get the most benefit out of CrossFit, you should perform a different routine at least three days a week, but ideally five days a week. The good news is that the routines are short, lasting only 15 to 20 minutes when done properly.  

10.  Paddle Boarding -SUP
Stand-up paddle boarding (SUP) has surged to a fast-growing water sport that fitness experts say delivers a full-body workout to anyone exercising on an ocean, lake or river. About 1.2 million people tried stand-up paddle boarding in 2011, up 18 percent from 2010, according to the Outdoor Industry Association's 2012 report, and nearly 60 percent of SUP enthusiasts tried it for the first time in 2011. "The health and fitness benefits are proving to be quite significant," said Bond, whose company uses biotechnology to measure muscle activation during SUP. "All of your stabilizing muscles in hip, lower leg, knee joint are activated in a therapeutic way to stabilize balance on the unstable surface," he said. The intensity of the workout also depends on the body of water, according to Dr. Cedric Bryant, chief science officer for the American Council on Exercise. "Balance, core strength and endurance are among the significant fitness benefits," Bryant said. "Paddling is a great core workout, engaging every muscle either actively or as core stabilizer, and paddling out on the ocean with waves and currents can be really intense."
FOR MORE INDEPTH INFORMATION ON PADDLE BOARDING AND INTERVAL TRAINING
AS WELL AS OTHER FORMS OF EXERCISE SEE ARTICLES BELOW!
 *****
ARE YOU WEARING THE PROPER SHOE FOR YOUR WORKOUT?
CHECK OUT OUR FITNESS SHOE GUIDE!
SUPINATOR
NEUTRALS
OVER-PRONATOR
LET OUR PERSONAL SHOPPERS HELP YOU FIND THAT PERFECT ATHLETIC SHOE!
shop Nordstroms for great sales on Athletic Shoes!
↓
*******
Which is better for weight loss —
cutting calories or increasing exercise?
from Donald Hensrud, M.D.
Cutting calories through dietary changes seems to promote weight loss more effectively than does exercise and physical activity. But physical activity also is important in weight control. The key to weight loss is burning more calories than you consume. Because 3,500 calories equals about 1 pound (0.45 kilogram) of fat, you need to burn 3,500 calories more than you take in to lose 1 pound. So if you cut 500 calories from your diet each day, you'd lose about 1 pound a week (500 calories x 7 days = 3,500 calories). For most people, it's probably too difficult to eliminate the amount of calories through exercise that you could through dieting. That's why cutting calories through dieting is generally more effective for weight loss. But doing both — cutting calories and exercising — can help give you the weight-loss edge. Exercise can help burn off even more calories than just dieting. Exercise also is important because it can help you maintain your weight loss. Studies show that people who lose weight and keep it off over the long term get regular physical activity. If you lose weight by crash dieting or by drastically restricting yourself to 400 to 800 calories a day, you're more likely to regain weight quickly, often within six months after you stop dieting. Getting regular exercise also can help prevent excess weight gain in the first place.
Exercise:
7 benefits of regular physical activity
You know exercise is good for you, but do you know how good?
From boosting your mood to improving your sex life,
find out how exercise can improve your life.
Want to feel better, have more energy and perhaps even live longer? Look no further than exercise. The health benefits of regular exercise and physical activity are hard to ignore. And the benefits of exercise are yours for the taking, regardless of your age, sex or physical ability. Need more convincing to exercise? Check out these seven ways exercise can improve your life.
No. 1: Exercise controls weight
Exercise can help prevent excess weight gain or help maintain weight loss. When you engage in physical activity, you burn calories. The more intense the activity, the more calories you burn. You don't need to set aside large chunks of time for exercise to reap weight-loss benefits. If you can't do an actual workout, get more active throughout the day in simple ways — by taking the stairs instead of the elevator or revving up your household chores.
No. 2: Exercise combats health conditions and diseases
Worried about heart disease? Hoping to prevent high blood pressure? No matter what your current weight, being active boosts high-density lipoprotein (HDL), or "good," cholesterol and decreases unhealthy triglycerides. This one-two punch keeps your blood flowing smoothly, which decreases your risk of cardiovascular diseases. In fact, regular physical activity can help you prevent or manage a wide range of health problems and concerns, including stroke, metabolic syndrome, type 2 diabetes, depression, certain types of cancer, arthritis and falls.
No. 3: Exercise improves mood
Need an emotional lift? Or need to blow off some steam after a stressful day? A workout at the gym or a brisk 30-minute walk can help. Physical activity stimulates various brain chemicals that may leave you feeling happier and more relaxed. You may also feel better about your appearance and yourself when you exercise regularly, which can boost your confidence and improve your self-esteem.
No. 4: Exercise boosts energy
Winded by grocery shopping or household chores? Regular physical activity can improve your muscle strength and boost your endurance. Exercise and physical activity deliver oxygen and nutrients to your tissues and help your cardiovascular system work more efficiently. And when your heart and lungs work more efficiently, you have more energy to go about your daily chores.
No. 5: Exercise promotes better sleep
Struggling to fall asleep? Or to stay asleep? Regular physical activity can help you fall asleep faster and deepen your sleep. Just don't exercise too close to bedtime, or you may be too energized to fall asleep.
No. 6: Exercise puts the spark back into your sex life
Do you feel too tired or too out of shape to enjoy physical intimacy? Regular physical activity can leave you feeling energized and looking better, which may have a positive effect on your sex life. But there's more to it than that. Regular physical activity can lead to enhanced arousal for women. And men who exercise regularly are less likely to have problems with erectile dysfunction than are men who don't exercise.
No. 7: Exercise can be fun
Exercise and physical activity can be a fun way to spend some time. It gives you a chance to unwind, enjoy the outdoors or simply engage in activities that make you happy. Physical activity can also help you connect with family or friends in a fun social setting. So, take a dance class, hit the hiking trails or join a soccer team. Find a physical activity you enjoy, and just do it. If you get bored, try something new.
The bottom line on exercise
Exercise and physical activity are a great way to feel better, gain health benefits and have fun. As a general goal, aim for at least 30 minutes of physical activity every day. If you want to lose weight or meet specific fitness goals, you may need to exercise more. Remember to check with your doctor before starting a new exercise program, especially if you have any health concerns.

Can you lose weight walking?
from Katherine Zeratsky, R.D., L.D.
You might be able to lose weight that way, depending on the duration and intensity of your walking and what your diet's like. But eating fewer calories through dietary changes seems to promote weight loss more effectively than does physical activity. That's not to say physical activity, such as walking, isn't important for weight control — it is. If you add 30 minutes of brisk walking to your daily routine, you could burn about 150 more calories a day. (To lose a pound a week, you generally need to eliminate 500 calories a day.) Of course, the more you walk and the quicker your pace, the more calories you'll burn. To reap the most health benefits from exercise, your exercise intensity must generally be at a moderate or vigorous level. For weight loss, the more intense your exercise, or the longer you exercise, the more calories you burn. However, balance is important. Overdoing it can increase your risk of soreness, injury and burnout. If you're new to regular exercise and physical activity, you may need to start out at a light intensity and gradually build up to a moderate or vigorous intensity. Once you've lost weight, exercise is even more important — it's what helps keep the weight off. In fact, studies show that people who maintain their weight loss over the long term get regular physical activity. So keep walking, but make sure you also follow a healthy diet

Walking:
Trim your waistline, improve your health
Ready to reap the benefits of walking?
Here's how to get started — and stay motivated.
By Mayo Clinic staff Can you really walk your way to fitness? You bet! Get started today.
Know the benefits
Physical activity doesn't need to be complicated. Something as simple as a daily brisk walk can help you live a healthier life.
For example, regular brisk walking can help you:
Maintain a healthy weight
Prevent or manage various conditions, including heart disease, high blood pressure and type 2 diabetes
Strengthen your bones
Lift your mood
Improve your balance and coordination
The faster, farther and more frequently you walk, the greater the benefits.
Consider your technique
Turning your normal walk into a fitness stride requires good posture and purposeful movements. Ideally, here's how you'll look when you're walking:
Your head is up. You're looking forward, not at the ground.
Your neck, shoulders and back are relaxed, not stiffly upright.
You're swinging your arms freely with a slight bend in your elbows. A little pumping with your arms is OK.
Your stomach muscles are slightly tightened and your back is straight, not arched forward or backward.
You're walking smoothly, rolling your foot from heel to toe.
Plan your routine
As you start your walking routine, remember to:
Get the right gear. Choose shoes with proper arch support, a firm heel and thick flexible soles to cushion your feet and absorb shock. If you walk outdoors when it's dark, wear bright colors or reflective tape for visibility.
Choose your course carefully. If you'll be walking outdoors, avoid paths with cracked sidewalks, potholes, low-hanging limbs or uneven turf.
Warm up. Walk slowly for five to 10 minutes to warm up your muscles and prepare your body for exercise.
Cool down. At the end of your walk, walk slowly for five to 10 minutes to help your muscles cool down.
Stretch. After you cool down, gently stretch your muscles. If you'd rather stretch before you walk, remember to warm up first.
Walking:
Trim your waistline, improve your health
Set realistic goals
For most healthy adults, the Department of Health and Human Services recommends at least two hours and 30 minutes a week of moderate aerobic activity or one hour and 15 minutes a week of vigorous aerobic activity — preferably spread throughout the week — and strength training exercises at least twice a week.
As a general goal, aim for at least 30 minutes of physical activity a day. If you can't set aside that much time, try two 15-minute sessions or three 10-minute sessions throughout the day.
Remember, though, it's OK to start slowly — especially if you haven't been exercising regularly. You might start with five minutes a day the first week, and then increase your time by five minutes each week until you reach at least 30 minutes.
Track your progress
Keeping a record of how many steps you take, the distance you walk and how long it takes can help you see where you started from and serve as a source of inspiration. Just think how good you'll feel when you see how many miles you've walked each week, month or year.
Record these numbers in a walking journal or log them in a spreadsheet or a physical activity app. Another option is to use an electronic device — such as a pedometer — to calculate steps and distance.
Stay motivated
Starting a walking program takes initiative. Sticking with it takes commitment. To stay motivated:
Set yourself up for success. Start with a simple goal, such as, "I'll take a 10-minute walk during my lunch break." When your 10-minute walk becomes a habit, set a new goal, such as, "I'll walk for 20 minutes after work." Soon you could be reaching for goals that once seemed impossible.
Make walking enjoyable. If you don't enjoy solitary walks, ask a friend or neighbor to join you. If you're invigorated by groups, join a health club.
Vary your routine. If you walk outdoors, plan several different routes for variety. If you're walking alone, be sure to tell someone which route you're taking.
Take missed days in stride. If you find yourself skipping your daily walks, don't give up. Remind yourself how good you feel when you include physical activity in your daily routine — and then get back on track.
Once you take that first step, you're on the way to an important destination — better health.
Rev up your workout with interval training
Interval training
can help you get the most out of your workout.
By Mayo Clinic staff Are you ready to shake up your workout? Do you wish you could burn more calories without spending more time at the gym? Consider aerobic interval training. Once the domain of elite athletes, interval training has become a powerful tool for the average exerciser, too.
What is interval training?
It's not as complicated as you might think. Interval training is simply alternating bursts of intense activity with intervals of lighter activity. Take walking. If you're in good shape, you might incorporate short bursts of jogging into your regular brisk walks. If you're less fit, you might alternate leisurely walking with periods of faster walking. For example, if you're walking outdoors, you could walk faster between certain mailboxes, trees or other landmarks.
What can interval training do for me?
Whether you're a novice exerciser or you've been exercising for years, interval training can help you jazz up your workout routine. Consider the benefits:
You'll burn more calories. The more vigorously you exercise, the more calories you'll burn — even if you increase intensity for just a few minutes at a time.
You'll improve your aerobic capacity. As your cardiovascular fitness improves, you'll be able to exercise longer or with more intensity. Imagine finishing your 60-minute walk in 45 minutes — or the additional calories you'll burn by keeping up the pace for the full 60 minutes.
You'll keep boredom at bay. Turning up your intensity in short intervals can add variety to your exercise routine.
You don't need special equipment. You can simply modify your current routine
How will my muscles respond to interval training?
During intense exercise, muscles produce waste products that can contribute to muscle soreness. Too many accumulated waste products can make exercise painful and exhausting. But by alternating bursts of intense exercise with easier intervals, you'll help reduce the buildup of waste products in your muscles. The result is more comfortable exercise.
Are the principles of interval training
the same for everyone?
Yes — but you can take interval training to many levels. If you simply want to vary your exercise routine, you can determine the length and speed of each high-intensity interval based on how you feel that day. After warming up, you might increase the intensity for 30 seconds and then resume your normal pace. The next burst of more intense activity may last two to three minutes. How much you pick up the pace, how often and for how long is up to you. If you're working toward a specific fitness goal, you may want to take a more scientific approach. A personal trainer or other expert can help you time the intensity and duration of your intervals — which may include movement patterns similar to those you'll use during your sport or activity — based on your target heart rate, the ability of your heart and lungs to deliver oxygen to your muscles (peak oxygen intake), and other factors.
Does interval training have risks?
Interval training isn't appropriate for everyone. If you have a chronic health condition or haven't been exercising regularly, consult your doctor before trying any type of interval training. Recent studies suggest, however, that interval training can be used safely for short periods even in individuals with heart disease. Also keep the risk of overuse injury in mind. If you rush into a strenuous workout before your body is ready, you may hurt your muscles, tendons or bones. Instead, start slowly. Try just one or two higher intensity intervals during each workout at first. If you think you're overdoing it, slow down. As your stamina improves, challenge yourself to vary the pace. You may be surprised by the results.
Fitness ball exercises:
How-to video collection
See how fitness balls are used.
A fitness ball looks like a large beach ball. You can do many core exercises with a fitness ball. You can also use a fitness ball to improve your flexibility and balance. Here's a collection of how-to videos to help you get started.
Choosing a fitness ball
When it comes to fitness balls, size matters. Watch this video for help choosing the right size ball.
Using a fitness ball
You can do fitness ball exercises at home or at the gym. Watch these videos to learn proper form and technique.

Medicine Ball Workout:
9 Moves to Tone Every Inch
Get a fast and effective total-body workout with this training tool
This killer medicine ball workout mixes cardio and resistance moves to help you build strength and blast fat—all while sculpting a tighter torso and flatter abs. A weighted ball is a great training tool because you can add it to almost any exercise to challenge your core stability and improve coordination. For best results, do this workout on two or three nonconsecutive days per week. You'll need: A medicine ball (3-10 lbs) Workout details: Do each move as quickly as you can with good form, moving from one exercise to the next with little or no rest in between. Once you've finished the last move, rest and repeat the entire circuit 1 or 2 more times.

WEIGHT TRAINING
Weight training is a form of resistance exercise. A good fitness program includes resistance exercise 2 days each week or more, and includes 8 to 10 exercises that work all the major muscle groups.1 It's best to allow at least 1 day of rest between these exercises.
Weight training can be done at a health club, with home equipment, or at a weight room in your apartment complex or community. You may use free weights (barbells and dumbbells), resistance training machines (weights attached to cables and pulleys or machines that use compressed air to create resistance), or use your own body weight (calisthenics). If you want to try weight training:
Start with professional instruction from a local YMCA, a good fitness club, or an experienced professional trainer. If you ask the help of a friend or neighbor, find out first if that person has received professional training.
Get individual help. Tell your trainer or instructor what you want out of your weight training (for instance, body building, toning and shaping certain body areas, or improving performance in a certain sport).
Learn the proper form for each exercise, then always use it. The proper form ensures that you get the most out of each exercise and helps prevent injuries. A good trainer will teach you about proper form.
Allow at least 2 weeks for your muscles and connective tissues to adjust to the new stresses and strains of weight training. Start by lifting weights that are lighter than you can manage. This helps you tell the difference between the normal aches and pains of weight training and the pains of overuse or real damage.
Work slowly, and move your muscles through their full range of motion.Fewer repetitions that are done slowly, using the entire length of the muscle, are more effective than many repetitions that are done quickly with only a short part of the muscle.
Learn how to breathe properly when working with weights. Exhale when pushing against the weight. Don't hold your breath at any point. Inhale when there is little or no resistance.
When you are ready, ask your trainer for guidance on:

How to improve.
How often to increase sets and repetitions. In general, do 1 or 2 sets of 8 to 12 repetitions. Older adults and people who are frail can do 10 to 15 repetitions with less weight.
When to increase weight. Start with a weight you can lift 8 to 12 times but that gets hard to lift by the last repetition. When it gets easier, add a little weight and go down to 8 repetitions, then gradually build up to 12 repetitions again.

Vary your program. Variety keeps your interest up and injuries down. Mix muscle strengthening with flexibility and aerobic work. Also, vary your work by alternating between:

Your upper body and lower body.
Free weights (barbells) and machines.
Heavier weights with fewer repetitions and lighter weights with more repetitions.
By starting slowly and using the right technique, you may find that weight training is an enjoyable and effective way to build strength.
*******   FLAT ABS
WITHOUT DOING THOUSANDS OF CRUNCHES?
By Jessica Cassity
You don't have to do a gazillion crunches to see results.
How doable is this abs workout? Let's just say that this fitness routine takes less huffing,
puffing, pulling, and tugging than squeezing into a swimsuit.
The moves in this plan are ultra-effective because they target all of your ab muscles at once,
working your waistline from the front, sides, and even the back. This creates a balance in your abdominals,
something traditional crunches can't do. Best of all, you only need to do 20 reps of each move,
so you can nail the whole routine in about five minutes.
Before you start, practice engaging your abs Pilates-style, suggests our workout creator Tracey Mallett (seen here),
star of the DVD Booty Barre Beginners & Beyond. Suck in your stomach as you do when trying on a swimsuit,
then hold on to that feeling during each exercise. Working out in this pulled-in position will make your transverse abdominals,
which wrap like a corset around your waist, stay activated. End result? A whittled waist — and no need for hot, sweaty shapewear!
Standing Side Crunch
What It Works All layers of the abs, particularly obliques and transverse abdominals.
To Do It (A) Stand holding on to the back of a sturdy chair with your right hand.
Point your left foot to the side and reach your left arm overhead. Stretch to the right,
gently leaning your torso over the chair. Slowly come back to center,
bringing your shoulders over your hips.
(B) Then bend your left elbow down and lift your left knee up so they meet at the side of your waist.
Hold for a breath, then lower your leg, and lean right over the chair again. Do 10 reps and switch sides.
Push the Ball Up
What It Works Your rectus abs, plus your obliques and transverse abs.
To Do It Lie on your back with your left leg extended toward the sky and your right leg flat on the ground.
Hold a small ball (think 12-inch-diameter beach ball) between your hands and press it against your left leg.
Slowly start to lift your head and shoulders off the mat, rolling the ball up your left leg.
Lift as high as you can while keeping your abs drawn in. Hold for one breath, then slowly lower the ball.
Do 10 reps, then switch sides. (If you've got tight hamstrings, bend your right knee and
place your right foot on the mat. If you need to, bend your left knee as well.)

X Marks the Spot
What It Works Your obliques, plus your rectus abs (the six-pack muscle) and transverse abs.
To Do It Lie on your back with your arms and legs in an X position.
Curl your head and shoulders off the mat as you lift your right leg and left hand up to meet above your waist
(and bring your right arm to your side). Hold for a breath, then lower your head, arms,
and legs back to the X position. Then bring your right arm up to meet your left leg and place your left arm by your side,
hold, and lower again to the X position. Do 10 reps.
Looking for more ways to tone your core?
Strengthen your chest, triceps, biceps, butt, and core with this new version of the push-up.
See how in our easy step-by-step guide…
Do you ever feel your working out every day and not getting the results you aspire?…Well many visitors to our TABLETALK table are talking about Interval Training,…so we did a little research on this type of exercise and found some very good information on the Mayo Clinic Fitness pages…let us know what you think?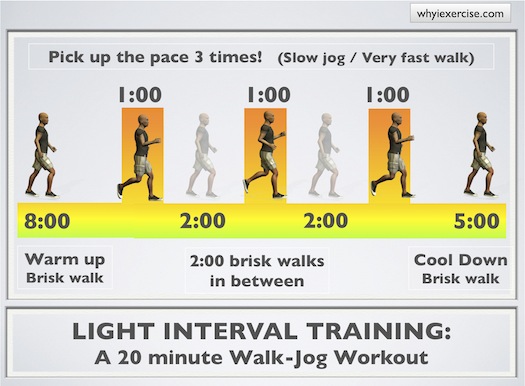 You can use this interval training technique with all kinds of exercises. Pick up the pace for 1 minute as you ride a bike or climb stairs, increase the intensity on the elliptical trainer or stairclimber at the gym, or find a walking route with hills. Find more exercise ideas with this article on metabolic equivalent. Note: It is important to pace yourself with high intensity interval training. Know your limits. Try increasing to a vigorous (but not hard) effort at first. If you are a beginner, give your body at least 3-4 weeks to adapt to the new exercise before you try for a harder effort. Check with your health care provider before trying intense exercise, especially if you have been inactive for a long time.
Rev up your workout with interval training
Interval training can help you get the most out of your workout.
Are you ready to shake up your workout? Do you wish you could burn more calories without spending more time at the gym? Consider aerobic interval training. Once the domain of elite athletes, interval training has become a powerful tool for the average exerciser, too.
What is interval training?
It's not as complicated as you might think. Interval training is simply alternating bursts of intense activity with intervals of lighter activity. Take walking. If you're in good shape, you might incorporate short bursts of jogging into your regular brisk walks. If you're less fit, you might alternate leisurely walking with periods of faster walking. For example, if you're walking outdoors, you could walk faster between certain mailboxes, trees or other landmarks.
What can interval training do for me?
Whether you're a novice exerciser or you've been exercising for years, interval training can help you jazz up your workout routine. Consider the benefits:
You'll burn more calories. The more vigorously you exercise, the more calories you'll burn — even if you increase intensity for just a few minutes at a time.
You'll improve your aerobic capacity. As your cardiovascular fitness improves, you'll be able to exercise longer or with more intensity. Imagine finishing your 60-minute walk in 45 minutes — or the additional calories you'll burn by keeping up the pace for the full 60 minutes.
You'll keep boredom at bay. Turning up your intensity in short intervals can add variety to your exercise routine.
You don't need special equipment. You can simply modify your current routine.
How will my muscles respond to interval training?
During intense exercise, muscles produce waste products that can contribute to muscle soreness. Too many accumulated waste products can make exercise painful and exhausting. But by alternating bursts of intense exercise with easier intervals, you'll help reduce the buildup of waste products in your muscles. The result is more comfortable exercise.
Are the principles of interval training the same for everyone?
Yes — but you can take interval training to many levels. If you simply want to vary your exercise routine, you can determine the length and speed of each high-intensity interval based on how you feel that day. After warming up, you might increase the intensity for 30 seconds and then resume your normal pace. The next burst of more intense activity may last two to three minutes. How much you pick up the pace, how often and for how long is up to you. If you're working toward a specific fitness goal, you may want to take a more scientific approach. A personal trainer or other expert can help you time the intensity and duration of your intervals — which may include movement patterns similar to those you'll use during your sport or activity — based on your target heart rate, the ability of your heart and lungs to deliver oxygen to your muscles (peak oxygen intake), and other factors.
Does interval training have risks?
Interval training isn't appropriate for everyone. If you have a chronic health condition or haven't been exercising regularly, consult your doctor before trying any type of interval training. Recent studies suggest, however, that interval training can be used safely for short periods even in individuals with heart disease. Also keep the risk of overuse injury in mind. If you rush into a strenuous workout before your body is ready, you may hurt your muscles, tendons or bones. Instead, start slowly. Try just one or two higher intensity intervals during each workout at first. If you think you're overdoing it, slow down. As your stamina improves, challenge yourself to vary the pace. You may be surprised by the results.
PADDLEBOARDING!
THE HOT SUMMER TOTAL BODY WORKOUT!
Yep…that's me!…My favorite sport!

Many of us here at COFFEEBREAKWITHFRIENDS
have  joined the rapidly growing group  of  Paddleboarders
for a fresh approach to their workout routine,…
and we  love it!..
Paddleboarding for a total body workout is becoming so popular
because not only does it workout all your muscles,
but it is low impact. Paddling and balancing on the board
strengthens the muscles of the legs, stomach, back and arms…
(especially that flabby part on the back of the arm that some of us women try to hide)…
And according to SHAPE magazine,…Paddle Boarding burns from 500 – 700 calories an hour!
So why not be a little adventurous this summer and try out this fun new craze!
 Most lake communities and almost all coastal communities
have a local shop where you can rent a board…
and if you are interested in purchasing a board…read below…
or ask one of our COFFEEBREAKWITHFRIENDS Personal Shoppers
for some help and advice…
We'd love to hear from you!…
HAPPY BOARDING
SUP PADDLE BOARDING WORKOUT…
 flv=
How to Get Started Stand Up Paddleboarding (SUP)
The fast-growing sport of stand up paddleboarding (SUP) is a fun, easy way to go play on the water. With a minimum of equipment, you can paddle anything from ocean surf to lakes and rivers—no waves required.
Paddleboarding offers an amazing full body workout and is becoming a favorite cross-training activity for skiers, snowboarders and other athletes. And since you're standing at your full height, you'll enjoy excellent views of everything from sea creatures to what's on the horizon. It's almost like walking on water!
Paddleboarding Gear
You need just a few key pieces of equipment to enjoy this sport:
Stand up paddleboard: This is by far your most significant gear investment. Sizes are based on the paddler's weight and experience. More experienced and lighter paddlers can choose narrower boards. Novice paddlers should choose wider, flatter boards, which offer more stability.
Paddle: Stand up paddles have an angle or "elbow" in the shaft for maximum efficiency. Choose a paddle that's roughly 6" to 8" taller than you are (though some manufacturers recommend an 8" to 10" differential).
PFD (Personal Flotation Device): The U.S. Coast Guard classifies stand up paddleboards as vessels, so always wear a PFD whenever you're paddling navigable water.
Proper clothing: For cold conditions where hypothermia is a concern, wear a wetsuit or dry suit. In milder conditions, wear shorts and a T-shirt or bathing suit—something that moves with you and can get wet.
Sun protection: Wear sunscreen and sunglasses.
Shop REI's selection of paddleboarding gear .
Techniques: Getting Started
Carrying Your Board to the Water
If your stand up paddleboard has been designed with a built-in handle, carrying it is a breeze. Just lean the board on its rail (edge), reach for the handle and tuck the board under one arm. Carry your paddle with the other hand. For longer distances, or if your board has no handle, you can more easily carry your paddleboard on your head. Here's how:
Stand the board on its tail (end) with the deck (top of the board) facing you.
Lay your paddle on the ground within easy reach.
Grasp the rails (the edges of the board) with both hands.
Walk yourself under the board so that your head is about midway between the nose (front) and the tail.
Stand upright with the board overhead, still holding it by its rails.
Now bend down and pick up your paddle and carry it alongside the board.
Head for the water.
Paddleboarding on Calm Water
When you're learning the sport, it's best to start out in ideal conditions: flat, calm water that's free of obstacles like boats and buoys.
Mounting the Paddleboard
When you're a beginner, it's easier to kneel on the board rather than to stand directly upright. Here are a few pointers to get you started:
Standing alongside the board, place your paddle across the deck of the board and use it as an outrigger. The paddle grip is on the rail (edge) of the board; the blade rests on the water.
Hold the board by the rails. One hand will also be holding the paddle grip.
Pop yourself onto the board into a kneeling position, just behind the center point of the board.
From that kneeling position, get a feel for the balance point of the board. The nose shouldn't pop up out of the water and the tail shouldn't dig in.
Keep your hands on either side of the board to stabilize it.
Once you're ready, stand up on the board one foot at a time. Place your feet where your knees were. You might also bring a friend to wade out about knee-deep with your board. Have your friend stabilize the board as you get the hang of standing on it.
Techniques: On the Water
Paddleboarding Stance
A few tips to help you keep your balance as you stand upright on the paddleboard:
Your feet should be parallel, about hip-width distance apart, centered between the rails (board edges). Don't stand on the rails.
Keep toes pointed forward, knees bent and your back straight.
Balance with your hips—not your head.
Keep your head and shoulders steady and upright, and shift your weight by moving your hips.
Your gaze should be level at the horizon. Avoid the temptation to stare at your feet.
It's much like bicycling: When your forward momentum increases, your stability increases as well.
Paddleboarding Stroke
Once you've practiced balancing on the board in flat water, it's time to take off on a paddleboarding excursion—where the real fun begins. Here are some pointers for getting started with the basic paddleboarding stroke.
If you're paddling on the right, your right hand is lower and on the paddle shaft. Your top (left) hand is on the top of the grip.
The elbow (angle) of the paddle faces away from you.
Keep your arms straight and twist from your torso as you paddle. Think of using your torso to paddle rather than your arms. You have more strength in those abdominal muscles than in your arms.
Push down on the paddle grip with your top hand.
Plant the paddle by pushing the blade all the way under the surface, pull it back to your ankle, then out of the water.
When you're beginning, keep your strokes fairly short and close alongside the board. No need to overpower it.
A small draw stroke at the beginning of the paddle stroke will keep you going forward.
To go in a reasonably straight line, paddle about 4 or 5 strokes on one side, then switch to the other.
When you switch sides, you'll reverse hand positions.
Paddleboarding Turns
There are several straightforward ways to turn a paddleboard.
Sidestroke: One easy method to is simply to paddle on one side until the nose turns in the direction you want to go. Want to turn right? Paddle on the left. Headed to the left? Paddle on the right.
Backpaddle: Another fast way to turn or reverse direction is to simply drag the paddle or paddle backwards on either side of the board.
Sea ("c") stroke: Plant your paddle towards the front of the board and take a long sweeping stroke towards the tail. This is sometimes called a sweep stroke.
Other tips:
Stepping back on the board or looking over your shoulder to the direction of your turn also helps in making a turn.
Another turn that works well, especially in surf, is to paddle on your dominant side (left foot forward, paddle on your right side). Really bend your knees and put more weight on your back foot. This allows the board to pivot and turn quickly.
When You Fall
Stand up paddleboarding is relatively easy to learn, but expect to take the occasional fall as you're gaining skills. For those inevitable times you lose your balance:
Aim yourself to the side, so that you fall into the water and not onto the board. Falling onto the board is more likely to cause an injury.
If you get separated from your paddle and your board, get your board first, then paddle it to retrieve the paddle.
Common Beginner's Mistakes in Paddleboarding
These mistakes are easy to make when you're starting out. Try to avoid them and you'll have a lot more fun on the water:
A hunched posture. Keep your back straight, shoulders level.
Staring at your feet instead of the horizon.
The elbow (bent angle) of the paddle facing in the wrong direction. It should point away from you.
Having both hands on the paddle shaft. Your top hand belongs at the very top of the paddle, on the grip.
Standing straight-kneed. It's much easier to balance with bent knees.
Paddleboarding: Next Steps
Once you've mastered the basics, there's almost no limit to the watery worlds you can explore on your stand up paddleboard. Play in the waves and ocean surf, carve turns or learn new strokes. You might find yourself wanting a narrower, more maneuverable board as you become more adept. Meanwhile, get out there, enjoy the view and have a great time on your SUP!

Stand Up Paddleboarding FAQs
Q: Do I need waves in order to paddleboard? A: Even though paddleboards look like oversized surfboards, you don't need waves in order to enjoy this self-propelled sport. In fact, flat water is preferred for building your paddleboard skills. Q: Where can I rent a board? A: Most surf shops that sell paddleboards also rent them. It's a great way to test out the sport before you commit to buying. Q: What size paddleboard is best for me? A: The choice is determined by a combination of paddler weight and skill, your intended use and the local conditions. Talk to an REI store employee for help with choosing the right paddleboard for you. Q: Why does the paddle have an angle? A: The elbow in a paddle provides a more powerful, effective stroke. When you're paddling, the elbow causes the paddle blade to align straight up and down as it comes alongside the paddleboard. Q: What should I wear for paddleboarding? A: Wear clothing that lets you move and that can get wet: shorts and a T-shirt or a swimsuit work well in warm climates. In cold weather when hypothermia is a danger, consider a wetsuit or drysuit. Always wear a PFD (Personal Flotation Device). Q: Do I need to wax the top of the paddleboard? A: Most paddleboards sold at REI have a traction pad attached to the top of the board. These provide reliable grip and should not be waxed. If you choose a paddleboard that doesn't have such a pad or soft-top, you'll need to use a base wax and a grip wax (such as Sticky Bumps) to provide traction. Q: How do I transport the board on my car? A: You can transport your paddleboard on the roof rack of a car. It's best to use a bar pad on the rack in order to protect the board. Be sure to stack the board on the roof with the fin up, towards the front. Use surf-specific straps that won't crush the foam on the board when you strap it down. Watch the Expert Advice video for tips on transporting watercraft . Q: Can the fins on a paddleboard be removed? A: The fins on underside of the board help with navigating through the water. They can be removed for travel and storage, but you won't want to paddle without them. Q: Where is the best place to stand on a paddleboard? A: Stand just behind the center point of the board. The nose (front) of the board shouldn't pop out of the water, and the tail shouldn't dig in. Q: Can I take a paddleboard in rivers? A: Yes, you can paddleboard almost any navigable body of water. Q: Why not just use a kayak? A: Kayaking is great fun, but the beauty of SUP is that standing up allows you to enjoy much better views, both to the horizon and down into the water. It's a simpler sport to pursue than kayaking, with less equipment required. It also offers a fantastic core workout. Q: Can you surf with a paddleboard? A: Yes, but learn to surf in an empty break before you enter the lineup. When you get good, remember to share the waves! Q: What does a full paddleboarding setup cost? A: Depending on which models you choose, the cost of a board and paddle ranges from about $1,100 to $2,100. Take a look at REI's online selection of paddleboard gear Contributors: Leland Ching, Lea DeJarlais, Dustin Kingman, Joel Oerter, Jason Sutherland
WHAT SIZE STAND UP SURFBOARD SHOULD I GET?
Photo Credit Cameron Spencer/Getty Images Sport/Getty Images
Stand up paddleboards originated in Hawaii in the 1960s when surfing instructors stood up on their boards to watch over their students. The sport grew in popularity during the first decade of the 21st century. And why not — a stand up paddleboard and a paddle are all you need to explore lakes, rivers and oceans. You also get an unmatched view of the water and surroundings by being upright. As a bonus, stand up paddleboards offer a full body workout and an exercise that is well-suited to cross trainers. The right size board for you primarily depends upon your experience level, weight and the type of water conditions you expect to encounter.
EXPERIENCE
If you are just learning to paddleboard, stability is vital. Longer boards are more stable and conducive to learning — you want to spend your time paddling and getting a feel for the sport instead of repeatedly falling into the water. A 12-foot board offers maximum stability, in part because of its long length and in part because it is also wider and thicker than a shorter board. You can rent a long board when you are starting out, learn the basics and later buy a shorter board, which will give you more control and maneuverability in the water.
WEIGHT
Longer boards are most appropriate for heavier stand up paddleboard riders. If you weigh well over 170 lbs., a 12-foot board should be a good fit. If you are around 170 lbs., an 11-foot board is appropriate. If you are very small and slight, a 10-foot board might prove ideal.
WATER CONDITIONS
You will be paddling through flat water, rough water or surf. A smaller board works fine if you are navigating a smooth lake. The rough water of a river or windswept lake is not as kind to smaller boards, which will dig into the choppy water and feel unstable. You should use a board in rough water that is 6 to 12 inches longer than a board you can control in smooth water. As for surfing the ocean waves, a novice stand up paddleboard rider should use the same board as in rough water. You will have more control and fall less often. Boards in the 11- to 12-foot range should work well. When you get more proficient, you'll gravitate toward smaller boards in the 9.6- to 10.6-foot range, which allow you to paddlesurf adroitly through the waves like good surfers do.
CONSIDERATIONS
Your paddle should be roughly 7 inches taller than you. The standard width of a paddleboard is 26 inches. If you are smaller or want a lighter board, a narrower width is an option. A board that is too thick will be hard to maneuver. However, thin board are less stable. Newer boards, as of 2011, taper in thickness to provide more stability without sacrificing maneuverability. A larger fin on your paddleboard also increases stability, although you won't be able to execute turns as fast. Finally, don't forget you have to transport your board to the car and to the water, so make sure you can carry it comfortably
                          Read more: http://www.livestrong.com/article/513528-what-size-stand-up-surfboard-should-i-get/#ixzz20j9IUiwk
Choose The Right Stand Up Paddle Board (SUP)
 flv=
The Golden Rules of Stand Up Paddling
 flv=
Stand Up Paddling – The Ideal Forward Stroke
lv=
Cardio and Strength Together
When you find your groove and get a consistent stroke going, it won't be long before you start to feel a burn in your legs, abs and arms. Almost anywhere you have muscles, you'll be feeling the workout after a SUP session. The burning sensation in your muscles is caused by lactic acid buildup. Your body produces lactic acid when your muscles become starved for oxygen. This happens because you are using your body's oxygen supply faster than you can restore it by breathing. Your heartbeat increases and breathing gets quicker as your muscles cry out for more O2. When it comes to working out, these are all good signs that you're getting a meaningful cardiovascular workout. The burning in your muscles means that your breaking down the muscle fibers, daring them to grow back stronger. This is the key process to building strength. You'll experience it all during a Stand Up Paddle Boarding session, so what are you waiting for? Stabilizer Muscles Your body is made up of a wide variety of muscle types and sizes. In your first week of Stand Up Paddle boarding, you're sure to discover quite a few muscles you never know you had! Chances are, these new areas of soreness will be your stabilizer muscles. You can expect to feel these in your calves, quads, hips and core. These little muscles play a vital role in keeping us injury free, in top shape and performing at a high level. Upon beginning regular regimen of SUP Paddle Board workouts, you'll soon feel lighter, stronger and faster. You'll notice an increase in lean muscle and a decrease in fat. Best of all, you'll be having a lot of fun while it's happening. Great Environment Not everyone loves hanging out at the gym. But who doesn't like being in the ocean or on a lake enjoying fresh air and sunshine? Stand Up Paddle boarding gives you the chance to get outside, enjoy your natural environment and put a little zen in your life. Plus, it's a great activity to do with friends, significant others and kids
Boards and Paddles

Choosing the right stand up paddle board has as much to do with your paddleboarding skills, experience and goals as it does with the kind of water you'll primarily be on: lake, canal, ocean and surf. Boards that are good for one type of water condition and/or skill level may not be the best for another. We carry a variety of SUP board manufacturers so that we can help you match the ideal board to your needs and usage. You will find stand up paddle boards for:
All Around Use
Surf Performance
Touring
Fitness/Yoga
Racing
OR CONTACT OUR WEBSITE AT:
WE'D LOVE TO HEAR FROM YOU!
***************
[ad#Commission Junction-8TOTALGYM]
Take advantage of Free Shipping + 10% off the Total Gym® 2000, 3000, and XLS (using code: 11001 at checkout) today. Act Now!
Start your Pilates workout today on a Total Gym® XLS
 THE TOTAL GYM WORKOUT!
Our COFFEEBREAKWITHFRIENDS team loves THE TOTAL GYM machine!
CHECK IT OUT!
flv= e
****
 flv=
*****
 flv= /]
*****
TOTAL GYM PILATES!
[stream flv=
*****
 flv= /]
WANT TO TRY THE TOTAL GYM???
CLICK THE AD BELOW…LET US KNOW WHAT YOU THINK!
COMPRESSION TIGHTS FOR YOUR WORKOUT
WHAT ARE THEY?…
AND DO THEY WORK?
Compression Technology
Dynamic Gradient Compression
[s=flv=
SKINS 400 Series is the only high performance apparel to take into account compression levels needed to increase oxygen delivery to active muscles while in motion. We call this dynamic gradient compression.
SKINS worked with the scientific and industrial research organisation in Australia to develop a device capable of taking multiple readings of the human body in motion. We hooked up SKINS athletes and for the first time ever, were able to accurately measure compression on muscles in motion – as they change shape with increased levels of oxygen-fuelled blood pumping through them.
This is revolutionary stuff – all previous compression measurements have been carried out on athletes standing still.
We now know what compression levels are required for specific muscle groups whilst static, during activity and in post exercise recovery. We know where you need movement for comfort and injury prevention, and how to get the best circulatory benefits for more oxygen delivery and reduced lactic acid build-up.
Our unique and proprietary knowledge is built into all 400 Series products. So you can go out and tear up the ground. Rip a hole in your personal best. Shred the competition and go back for more.
Engineered Gradient Compression
We're not just trying to squeeze you. SKINS gradient compression has been engineered to provide the correct level of surface pressure to specific parts of the body. This enhances circulation and gets more vital oxygen to your active muscles – boosting your power, speed and stamina. Improved circulation also helps to eliminate lactic acid build up and other metabolic wastes during an intense workout. The result? You go harder, for longer and recover faster.
***
TO ORDER YOUR SKINS….CLICK THIS AD
[stream flv=
THE CW-X STORY…
3 Days ONLY: 20% off Triathlon Products at Paragon – Code: 4599
Wacoal Sports Science dedicates CW-X® to people everywhere in the world who love the exhilaration and challenge of sports. Because to celebrate sports is to celebrate what's best in human beings.
Japan's Wacoal Corp, the world's largest manufacturer of intimate apparel, has spent half a century creating clothing born of a deep understanding of the body. Combining its scientific knowledge of the human anatomy with its experience in complex fabrications and apparel design, the company first entered the performance sports apparel market in Japan in 1991 with CW-X® Performance Conditioning Wear. Recently the company launched the CW-X® brand in the US market through the newly formed Wacoal Sports Science Corp.
Wacoal Sports Science Corporation, headquartered in New York City, is a wholly-owned subsidiary of Wacoal International. The company's mission is to meet the sports performance needs of the active US consumer through the CW-X brand, the world's first truly anatomically-engineered high performance sports apparel. In a study in Kyoto, Japan, electrical pulse activity of the muscles (muscles firing into motion) was measured electromyographically. Unsupported and partly supported legs both show frequency decrease during exercise, indications of fatigue. Legs supported by CW-X® showed negligible frequency decrease. In a study in Montpelier, France, differences in fatigue in runners wearing shorts, regular spandex tights, and CW-X® Conditioning tights were measured comparing VO2 oxygen uptake levels over 15 minutes of running at 80% of maximal effort. When wearing CW-X® tights the results showed 26% and 36% lower oxygen usage compared to regular tights and shorts respectively, indicating lower energy expenditure in CW-X® tights.
[stream flv=
ORDER YOUR COMPRESSION/RECOVERY TIGHTS AT PARAGON…CLICK BELOW
For the past few weeks our COFFEEBREAKWITHFRIENDS team has been testing a few different types of COMPRESSION TIGHTS.  So far most of our testers have been very satisfied…us know what you think…
SEND US YOUR COMMENT:
HOW DO  YOU STAY IN SHAPE?
AEROBIC CLASSES?…BOOT CAMP WORKOUT?…
CYCLING CLASSES?…DANCE CLASSES?…
YOGA?…PILATES?…SPEED WALK?…ZOOMBA?…
PERSONAL TRAINING SESSIONS?…KICK BOXING?
Share your favorite workout tips with our
TABLETALK Friends!…add your comments below!
**************************
EXERCISE IS A GREAT STRESS RELIEVER!
Don't have the time…try this great 10 minute Pilates Workout…
OR
HOW ABOUT YOGA?
WHAT ARE  YOUR FAVORITE WORKOUT TIPS FOR A FIT NEW YEAR?
*************
Not sure if this footwear really tones your legs…
but FITFLOPS great support for sore joints, ect…
FitFlop. Get a workout while you walk™ FitFlop footwear is biomechanically engineered to help tone and tighten your leg muscles while you walk in them. Studies at the Centre for Human Performance at LSBU show that normal walking in FitFlop sandals(1) can help: – increase leg, calf and gluteal muscle activity, – improve your posture, – mimic the gait of barefoot walking but with more muscle load, – improve muscle tone. FitFlop sandals wearers have also reported relief from plantar fasciitis, heel spurs, chronic back pain, sciatica, osteoarthritis, RLS (restless leg syndrome), scoliosis and degenerative disc disease. OR Shape-ups by SKECHERS 'Metabolize' Walking Shoe Four clinical studies in the US and Japan show that Shape-ups increase muscle activity and energy consumption over standard fitness shoes!* Doctors and researchers have confirmed that walking in Shape-ups can have major benefits on our health, including:
More toned and strengthened leg, back, buttock and abdominal muscles
Reduced body fat
Improved circulation, aerobic conditioning and exercise tolerance
Improved posture, relieving muscle tension and back/joint problems
WHICH WORKOUT IS YOUR FAVORITE?
***********
PLEASE SUPPORT THE ADVERTISERS ON OUR POST…
THEIR COMMISSIONS MAKE OUR
COFFEEBREAKWITHFRIENDS SITE POSSIBLE!
OUR STAFF HAS SEARCHED OUT SOME GREAT LINKS TO
TOP BRANDS WITH AFFORDABLE PRICES!
JUST CLICK THE AD AND START SHOPPING…
LET US KNOW WHAT YOU THINK…
ENJOY!
THANKS!
[ad#Commission Junction-1-TIVO SM. BANNER]